NFL Commissioner Roger Goodell Says He Dropped the Ball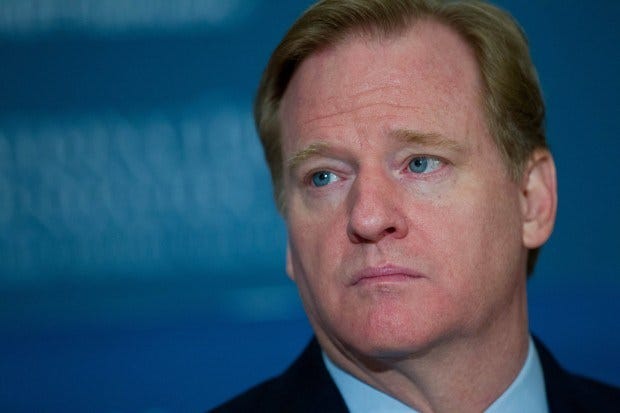 Goodell apologizes for missteps
NEW YORK (AP) _ After further review, NFL Commissioner Roger Goodell says he dropped the ball.
Vowing to "get the NFL's house in order," Goodell says the NFL wants to implement new personal conduct policies by the Super Bowl.
At a news conference Friday, Goodell made his first public statements in more than a week about the rash of NFL players involved in domestic violence. He did not announce any specific changes, and emphasized he has not considered resigning. He said we've seen all too much of the NFL doing wrong, and that starts with him.
The league has faced increasing criticism that it has not acted quickly or emphatically enough concerning the domestic abuse cases. The commissioner reiterated that he botched the handling of the Ray Rice case. The now-suspended and former Baltimore running back at first received only a two-week suspension.
Goodell says the same mistakes can never be repeated.
Among the areas that will be examined is Goodell's role in discipline. He now oversees all personal conduct cases, deciding guilt and penalties. Goodell said he would meet with NFL Players Association chief DeMaurice (deh-MOHR'-his) Smith next week, and they would work with outside experts to evaluate the league's policies.
More defiant than contrite as he was hammered with questions, Goodell said he has not considered resigning.
The commissioner and some NFL teams have been heavily criticized for lenient or delayed punishment of Rice, Minnesota running back Adrian Peterson and other players involved in recent domestic violence cases. Less than three weeks into the season, five such cases have made headlines, the others involving Carolina defensive end Greg Hardy, San Francisco's Ray McDonald and Arizona's Jonathan Dwyer.
Authorities in Minnesota have filed a petition seeking a protective order for Peterson's son. The petition asks a judge to block Peterson from using any corporal punishment or physical discipline on the 4-year-old boy. Peterson faces a child abuse charge in Texas for using a wooden switch to spank the boy in May. Meanwhile, Procter & Gamble is canceling an on-field breast cancer awareness promotion it had been planning with the league. The consumer products maker is the latest major sponsor to show concern over the NFL's handling of domestic abuse allegations. PepsiCo and Anheuser-Busch voiced their concerns earlier this week.