Nice! brand peaches, mixed fruits recalled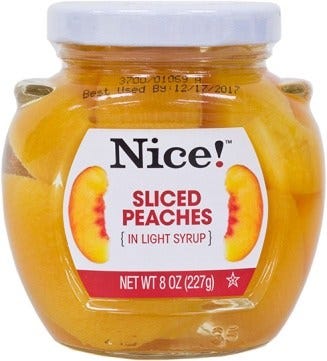 By: Elisha Kay Aldrich
The Food and Drug Administration today announced a recall of two jarred fruit products, due to a glass hazard.
According to the administration, Milky Way International Trading Corp. is voluntarily recalling Nice! Peach Slices and Nice! Mixed Fruit in 8-ounce glass jars "out of an abundance of caution."
The products were sold to Walgreens stores all over the country. So far, there has only been one complaint concerning the peaches, and none concerning the mixed fruits. The jars have been removed from Walgreens shelves.
If consumers have any questions, they are encouraged to call Milky Way International at 1-888-496-9187. If you have the product on hand, please return it to the place of purchase.
The recall is limited to these specific product codes:
Item # 80894 Nice! Brand Peach Slices in Light Syrup 8oz
| Lot number | Bottle Label UPC | Case UPC |
| --- | --- | --- |
| 3700/01069 12/15/2017 | 0-49022-80894-2 | 100-49022-80894-9 |
Item # 80896 Nice! Brand Mixed Fruit in Light Syrup 8oz
| Lot number | Bottle Label UPC | Case UPC |
| --- | --- | --- |
| 3700/01069 12/08/2017 | 0-49022-80896-6 | 100-49022-80896-3 |
© WLNE-TV / ABC6