Nice finish to the weekend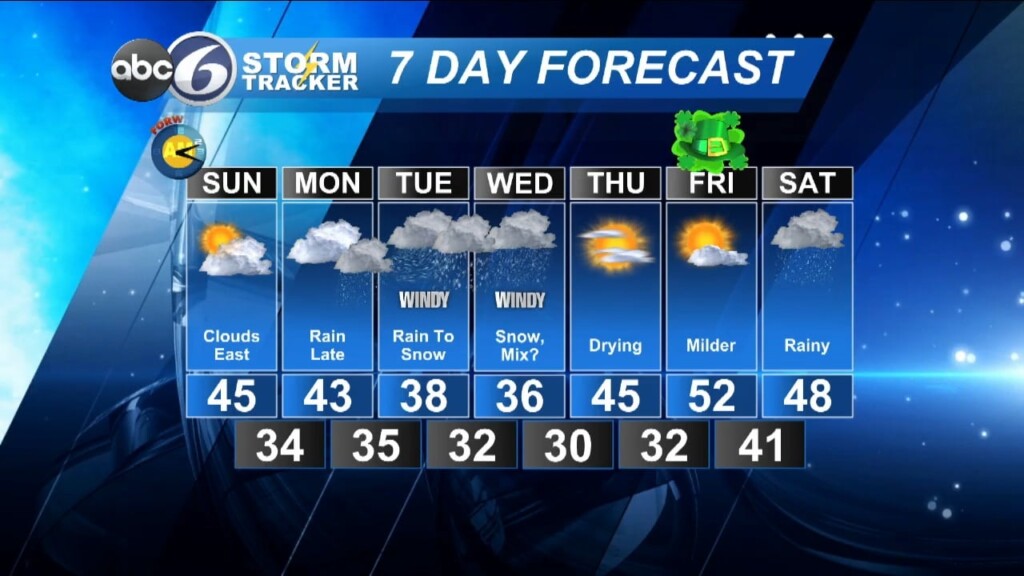 From ABC6 Meteorologist Bill Gile,
bgile@abc6.com
Springing forward to Daylight Saving Time tonight! A lot of clouds will stick around for tonight as the storm that brought the rain and snow our way today pulls away from New England.
Sunday will be the pick of the weekend, although not perfect by any means. Northeasterly winds in the morning will be the cause for a good deal of clouds in southeastern MA and eastern RI. However, as we move into the afternoon the winds will let up and further west you are the more sun you will see.
Clouds return Sunday night and last throughout the day Monday as a developing Nor'easter approaches. I think most of Monday will remain dry, but as we head into Monday night rain will be developing.
There's still a lot of details about this storm that have to be worked out through the next 48 hours, most specifically when will the rain turn to snow and how much snow will we get? However, I am certain that this will be a 36-48 hour event and that we will experience strong to perhaps damaging wind gusts from this storm that could be reaching 50-55MPH. Coastal concerns will need to be monitored for minor flooding during the high tide cycles Tuesday and Wednesday.
Tune in to ABC6 News for my latest forecast.
TONIGHT: evening clouds breaking somewhat overnight. Lows in the upper 20s.
SUNDAY: breezy morning with a mix of sun and clouds, especially for the afternoon. Highs near 45. Winds NE 5-15 MPH.
SUNDAY NIGHT: mainly cloudy. Lows 32-36.
MONDAY: cloudy, rain developing into the evening. Highs in the low 40s.
TUESDAY: windswept rain, heavy at times, mixing with and likely changing to snow. Highs in the upper 30s.
WEDNESDAY: snow, may be heavy at times and could mix with some rain. Blustery with highs in the mid 30s.