No. 2 Brown Women's Crew Takes All Three NCAA Events vs. No. 7 Yale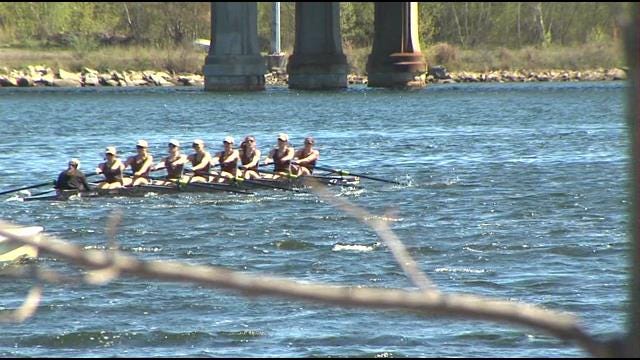 For Immediate Release:
From Brown University Athletic Communications
April 30, 2016
PROVIDENCE, R.I. – No. 2 Brown University women's crew won all three NCAA events – the A varsity four, second varsity eight, and first varsity eight – vs. No. 7 Yale University on the Seekonk River on Saturday afternoon to conclude its regular season.
In their only home race of the year, the Bears earned the Nat & Anne Case Cup with their victory over the visiting Bulldogs.
Brown captured the first varsity eight event, the final race of the day, with a time of 7:25.90, outdistancing Yale (7:32.10) by 6.20 seconds.
In the second varsity eight, the Bears clocked in with a time of 7:45.10, topping Yale (7:50.20) by 5.10 seconds. Brown's second varsity eight finished the regular season undefeated with the win.
The Bears won the A varsity four race behind a time of 8:14.70, eclipsing the Bulldogs (8:18.60) by 3.90 seconds in the first NCAA event of the day.
In the afternoon's first race, Yale (7:29.90) took the third varsity eight race, defeating Brown (7:44.10) by 14.20 seconds.
The Bears' B and C varsity fours raced alongside Brown and Yale's A varsity fours with the B entry placing third with a time of 8:39.00, and the C entry finishing fourth with a time of 9:26.20.
The 11 members of Brown's senior class taking part in their final home race included Emma Betuel (East Hampton, N.Y.), Catherine Closmore (Hugo, Minn.), Nicolette Driscoll (Ambler, Pa.), Signe Henderson (Berkeley, Calif.), Anna Johnson (Lausanne, Switzerland), Sigal Markowitz (Long Beach, N.Y.), Lucia Petty (Hong Kong), Ellie Place (Bellevue, Wash.), Isabel Runge (Redmond, Wash.), Muriel Solberg (Rockford, Ill.), and Sasha Tilles (Redmond, Wash.).
Next, Brown will compete at the Ivy League Championship on Sunday, May 15 at Mercer Lake in West Windsor, N.J., with morning heats beginning at 9 a.m.
Brown Schedule/Results
2:05 p.m. – Third Varsity Eight – Second Place (0-1) – 7:44.10
2:25 p.m. – A Varsity Four – First Place (3-0) – 8:14.70
2:25 p.m. – B Varsity Four – Third Place (1-2) – 8:39.00
2:25 p.m. – C Varsity Four – Fourth Place (0-3) – 9:26.20
2:45 p.m. – Second Varsity Eight – First Place (1-0) – 7:45.10
3:05 p.m. – First Varsity Eight – First Place (1-0) – 7:25.90