No verdict yet in Tsarnaev penalty phase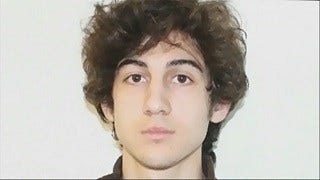 By Samantha Lavien
The first full day of jury deliberations in the penalty phase for convicted bomber Dzhokhar Tsarnaev ended with no verdict.
So far, the 12 person jury has spent more than 8 hours deliberating.

There were a few jury questions on Thursday, the most complicated having to do with conspiracy and aiding and abetting. The question was in reference to the gateway factors section on the verdict form.
In all, the jurors charged with deciding whether Tsarnaev should live or die have heard 10 weeks of testimony and listened to more than 150 witnesses.
This is the same jury that found him guilty of all 30 federal charges last month. 17 of those 30 counts do carry the possibility of the death penalty.
In the guilt phase it took those jurors 11 and a half hours to come to a verdict.
In the penalty phase, they will have to go through a complex 24 page verdict form while making their decision.
In part six of that form, or the determination of sentence portion, there are four choices.
Jurors can unanimously agree that on all counts Tsarnaev should be sentenced to death, on some counts he should be sentenced to death, on all counts he should be sentenced to life, or that they cannot agree on either option.

It only takes a decision of death on one count for Tsarnaev to get that sentence.
Deliberations will resume Friday morning.
© WLNE-TV 2015