Non-emergency medical transportation driver facing charges after fatal crash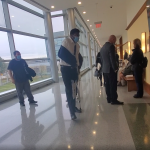 WARWICK, R.I. (WLNE)- A non-emergency medical transportation driver was in court Wednesday, facing several charges after a fatal two car accident.
Dauda Elegushi, 25, walked on crutches into the Kent county district court for his hearing, suffering from injuries he got in the accident while transporting a 77-year-old woman.
The woman was transported and and soon passed away after from sustained injuries.
Elegushi is facing four felony charges among other charges from the crash.
The state asking for $100,000 dollars bail with surety of $2,000 cash.
Elegushi is in the country illegally, overstaying his stay from Nigeria, according to the state.
His lawyer says he's studying at CCRI and with others from a church who were present in the courtroom.
His passport is in custody of Coventry police as they view him as a legal flight risk.
While the case is pending, Elegushi is not allowed to operate a vehicle or travel out of state unless given permission from the attorney general, according to the judge.
Elegushi will be back in court on February 23rd.