Non-profit uses PrideFest to raise awareness about LGBTQ foster parents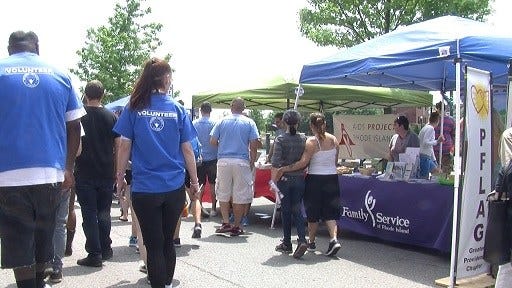 By: Rebecca Turco
Email: rturco@abc6.com
Twitter: @RTurcoABC6
Facebook: RebeccaTurcoABC6
PROVIDENCE – A momentous celebration in Providence Saturday, for the 40th Annual PrideFest RI.
Family Service of Rhode Island (FSRI) used the event to raise awareness about the inclusiveness of foster care. "There's been some confusion and some misinformation out there that if you're a same-sex couple or if you identify as LGBT, that you can't be a foster parent, and that's just not the case," explained Greg Wright, foster care program manager.
To raise awareness about this, FSRI – for the first time – had two gay foster dads carry the organization's banner while marching in the Illuminated Night Parade. "It's just important to have all walks of life and all diversities as part of our program," Wright said.
There is a desperate need for foster parents, with a waiting list of more than 100 kids, according to Wright.
That's where people like Kelly Boutin of Warwick come in. "My wife and I are getting ready to start thinking about how we're going to start a family," she told ABC6 News. "I want kids but I don't really care how they end up in my heart. So they can come from me, or if we start our family through fostering and then hopefully adoption, we're totally open to it."
Wright said at the end of the day, families come in all different shapes and sizes, and the important thing is that these kids get loving homes. "We want all families of all dynamics."
There is an urgent need in Rhode Island for foster care for teenagers. For more information about fostering or how you can help, click here.
© WLNE-TV 2015