North Attleboro ladies glimpse William and Kate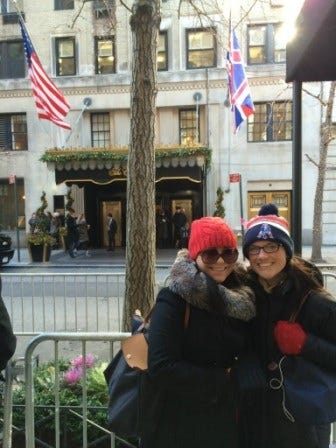 Nicole Brazier
@NicoleBrazierTV
nbrazier@abc6.com
NORTH ATTLEBORO – The royal couple made their first trip to New York City… and two women from North Attleboro made it their mission to get to the big apple and catch a glimpse of them.
They've had a love for the royal family from a young age.
"I've always been a huge fan just the British Monarchy going back a thousand years. I've taken many college courses and I've been reading about it probably since I was in the fourth grade," said Meaghan Chretian.
She and longtime friend Stephanie Ryan didn't think twice about making the trip to NYC when they heard William and Kate would be in town.
"It's the fairy tale, you know, they present themselves so well and, it's just something to admire.," said Ryan.
The 20somethings joined thousands of others waiting outside the Carlyle Hotel just for a glimpse of the prince and princess.
After an unplanned 8 hours of standing in the freezing cold, they finally got their chance.
"It was electric, I mean the crowd went wild," said Chretian.
"We could see William, his window was down and he looked right at us, and it was an awesome feeling, I almost had tears in my eyes.," said Ryan.
They know their fascination over William and take sounds crazy, but they don't care, and they enjoyed every minute of their journey to see the couple, frostbitten fingers toes and all.
"It was worth every second," said Ryan.
(c) WLNE-TV 2014