North Attleboro teens spread words of kindness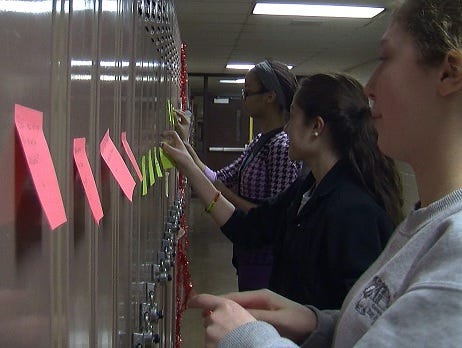 By: Chelsea Priest
Twelve-hundred students, means twelve-hundred lockers at North Attleboro High School and on every single one, a post-it note with words of kindness. Post-its saying things like, "Stay Gold", or "You're the best around", and "You don't need makeup, makeup needs you."
High School freshmen, Rachel Sweeney said, "Why not do something that will make a lot of people smile because I guess smiling is the best thing to do."
It was meant to be an anonymous act but it is high school and pretty soon everyone knew the three freshmen who were responsible for the kind words.
Nicole Majewski, one of the three students said, "everyone was talking about it, we didn't think it would be a big deal, just like 'oh, who did this?', but no, everyone was talking about it." Sierra Cornelison said, "I saw people smiling and showing them to their friends and saving them in their lockers. It was really, really nice."
During February break all the individual post-its were hand written. Then, the girls stayed late one day last week to hang them. They said it took about 3 hours to post them throughout the entire school.
The freshmen hope this will create a chain reaction of kindness and it looks like it's already started. The story showed up on the popular gossip website, perezhilton.com. Also, Cornelison added, "my little brother told me that the elementary school copied the idea so I was really happy to hear people keeping the kindness going."
(C) WLNE-TV 2014