North Kingstown could benefit big from new jobs at Quonset Point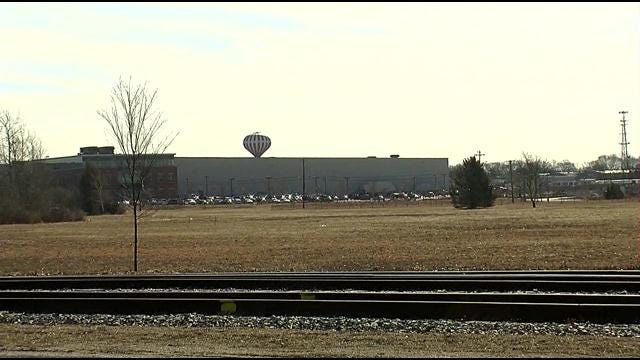 by ABC6 News Chief Political Reporter Mark Curtis
It may not look like much now, but an empty patch of land in the Quonset Business Park will soon be home to Greencore USA.
The prepared convenience food company from Ireland will build a 100 thousand square facility here, at first employing about 400 people.
"I want to welcome Greencore to Rhode Island. They are just the kind of company we want to see located here bringing the jobs and doing business here," said Congressman Jim Langevin.
"The availability of good local people and the logistics and the ease of getting north and getting south from here were big reasons for moving," said Liam McClennon, Greencore USA CEO.
Tuesday, the Quonset Development Corporation Board voted to approve the company setting up shop. Greencore USA is agreeing to a 50 years on the property.
That means a lot of businesses along Post Road will be getting new customers, too.
"They are coming in and out, using our businesses. On a daily basis, stopping at Dave's Marketplace on their way home; stopping at TJ Maxx; looking at all the eateries for lunchtime," said Martha Pughe, Executive Director of the North Kingstown Chamber of Commerce.
And Greencore plans to expand to six hundred employees, meaning even more business for other local establishments.
ABC6 Chief Political Reporter Mark Curtis said, "In this case, Rhode Island's gain is Massachusetts lost. Greencore is closing down two of its facilities in the Bay State, to move here to Quonset Point."
Quonset is attractive to business because of its distribution routes by road and rail.
All of this is good news to real estate agents like Mike and Debbie Chennisi, who sell and rent homes in North Kingstown and East Greenwich.
"More properties will come on the market and if we can have more people moving into the area, it will be beneficial for every single business involved," said Debbie Chennisi, a broker with RI Real Estate Services.
"An impact like this is tremendous, again for the local economies, bolstering local businesses. It's tremendous," said Mike Chennisi, a broker with RI Real Estate Services.
Greencore will break ground in May, and open in April of 2015.
Analysts say the impact on the local economy could be felt very soon.