North Providence gym closes suddenly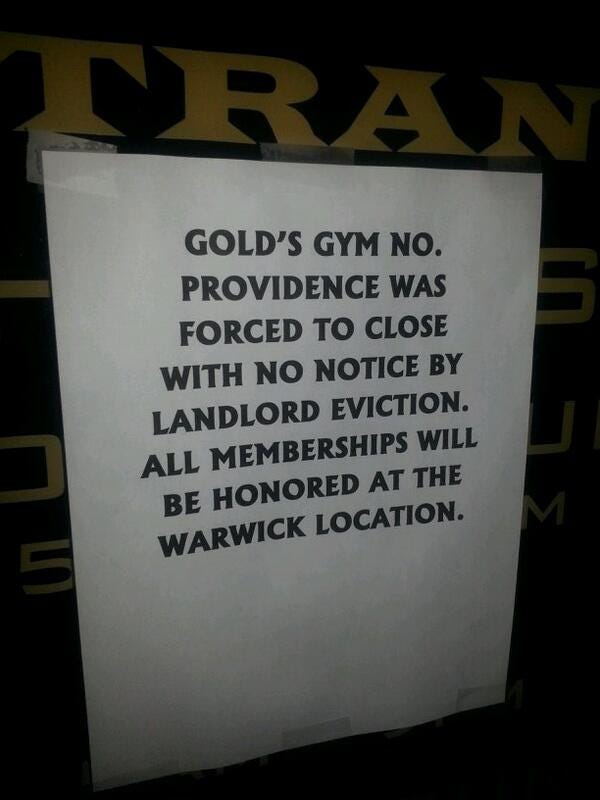 UPDATED
By: Melissa Randall
The sign on the front of Gold's Gym on Smith Street in North
Providence was an unwelcome surprise for people showing up to
workout Friday.
"I'm very disappointed," said long time member Stephen
Fariana.
A note on the door of the gym says it was closed- with no
notice- Thursday afternoon by the landlord, Fruit Hill Plaza, LLC. Right next to it was a court
issued eviction letter which says Gold's Gym, owned by Gable Fitness Inc. was
not up to date on its rent. A lawyer for the buildings owner says the gym owes
the landlord $224,430.76.
"They were still taking memberships up until recently- a
couple of days ago," said Fariana. "So I don't know how that went on."
The owners are honoring those memberships at their Warwick location which is about a 20 minute drive away
from the North Providence club.
"I live in North Providence
and I work downtown," said one gym member. "I'm not going to drive from North Providence
to Warwick to
go to a gym."
The business owner wasn't at the Bald Hill Road location when ABC6 News
stopped by to try and get a comment. An employee told us that her boss and the North Providence landlord couldn't come to an agreement on
the lease. She said they had a disagreement over the condition of the building.
Members, many of whom just re-signed contracts through 2015
or in some cases 2016 don't think they deserve to be inconvenienced why the business
tries to work things out, but aren't sure what other recourse they have.
ABC6 News reached out to the owner of the Warwick property
to see if Gold's Gym is up to date on rent there, but by late afternoon Friday
had not heard back.
A sign later placed on the door of the Smith Street location says the company
plans on relocating.
© WLNE-TV 2014
Follow me on Twitter @MelissaARandall