North Providence holds fundraiser to help girl fighting cancer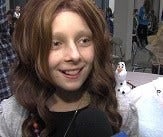 By Kirsten Glavin
kglavin@abc6.com
@kirstenglavin
NORTH PROVIDENCE – Kendal Beffre is a fighter. And North Providence knows it.
"She has the most amazing spirit," said family friend Roby Viella.
The 10 year old was diagnosed with alveolar rhabdomyosarcoma, a nearly un-curable stage 4 cancer. But although her odds are long, her community isn't letting her fight it alone.
"This is something that we decided – you know, let's do a pasta dinner. But then wanted to make it bigger than big… epic," added Vilella, a main organizer for the fundraiser.
Kendal arrived Friday night in style, pulling in to North Providence High School in a stretch limo. "It was real cool," Kendal said, beaming.
The event brought together more than 300 sponsors, and raised about $30,000 dollars in donations for the Beffre family to help with everything from day to day expenses to medical bills.
Charles Lombardi, Mayor of North Providence, was also in attendance. "It's touching and I appreciate what the people of the town of North Providence are doing for this young girl," he said.
Despite her sickness, Kendal still shines bright. Her smile lit up the room. A testament to her and her family's fighting spirit.
"It has been tough," said Kendal's mother, Cheryl. "But our family – we always stick together."
To donate visit her GoFundme page.