North Providence losing thousands in street lamp repairs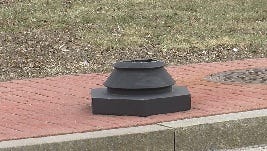 Nicole Gerber
@nicolegerber
NORTH PROVIDENCE – The town of North Providence is losing thousands of dollars because of decorative street lights that keep getting knocked down.
With no one stepping forward to claim responsibility the town is forced to foot the bill.
Stumps are all that remain where the lamps once were. 24 out of the town's 70 decorative street lights have been knocked down.
"As of right now we've probably got about $18, $20,000 invested in repairs," said North Providence Mayor Charles Lombardi.
These poles are designed to be non–durable so that if a car does hit them and they come down, it won't cause any damage to the vehicle.
"The vehicle can just knock the pole down and keep going, and we're left with the remains and the debris that's on the ground," Lombardi said.
"These posts costs $4,200 to replace, but that's only for the pole, it costs about $1,200 for the work, the labor," said G. Richard Fossa, Chief of Staff to the Mayor.
Now the remaining stumps pose a public safety concern: creating a tripping hazard.
And an aesthetic concern… being an eyesore.
"I think I'm on top of the list of people who do not like the way they look, I'm a keep your shoes shined type of a guy," said Lombardi.
Officials plan on meeting within the next few weeks to come up with a plan to deal with the lamps that have come down.
Those that were needed for street light will be replaced, and those that were just for decorative purposes, will have their stumps removed and paved over.
Lombardi says that when the lamps were originally installed 15 years ago they were placed too close to the edge of the curb. That may be an additional reason that so many have come down.
(c) WLNE-TV 2014