North Smithfield Police look for B&E suspect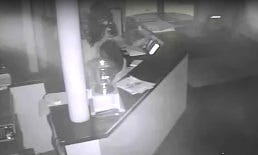 Dee DeQuattro
ddequattro@abc6.com
North Smithfield Police are asking for the publics help in identifying
a suspect accused of breaking and entering and larceny at Hino Trucking.
On Thursday a suspect forced his way into the business shortly
at 3:11 a.m. and stole a small file cabinet that contained money and other items.
The suspect then fled the scene in a vehicle.
Anyone with any information regarding the incident is asked to
contact Smithfield
police at 401.762.1212.