North Smithfield Students Fighting to Keep School Sports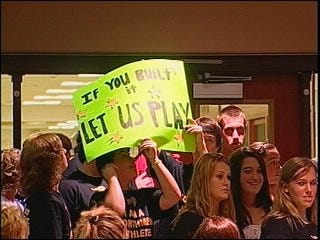 Over 100 North Smithfield students showed up to a special joint meeting of the North Smithfield Town Council and School Department Tuesday, to try and save their sports programs, the majority of which are being cut for next year, due to a budget deficit.
To try and make up for a $1.2 million dollar cut in the school budget, officials were set to cut all of middle school sports, and several junior varsity and varsity programs at the high school. Other learning programs and music programs are included in the cuts.
While the outcome of the meeting wasn't clear at press time, it was obvious that the students weren't giving up their sports without a fight.
ABC6 News Reporter Erica Ricci has the story.