North Smithfield teacher accused of 'sexting' female students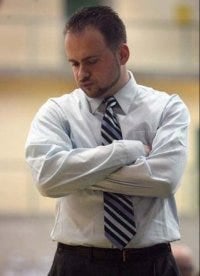 Authorities say a North Smithfield High School teacher charged with sending sexually inappropriate text messages to a female student had been contacting the girl for the past two years.
Stephen Demeo has been charged with indecent solicitation of a minor and possession of marijuana and child pornography.
He was arraigned Monday in District Court in Warwick but did not enter a plea.
A lawyer for Demeo did not immediately return a call seeking comment Tuesday.
State Police say they served a search warrant Monday on Demeo's Johnston home.
They say they've also identified a second female student at North Smithfield High School who allegedly received obscene messages from Demeo.
Demeo has been placed on administrative leave from his teaching job.
He's been ordered to have no contact with minors he's unrelated to.