Nuisance stickers showing up again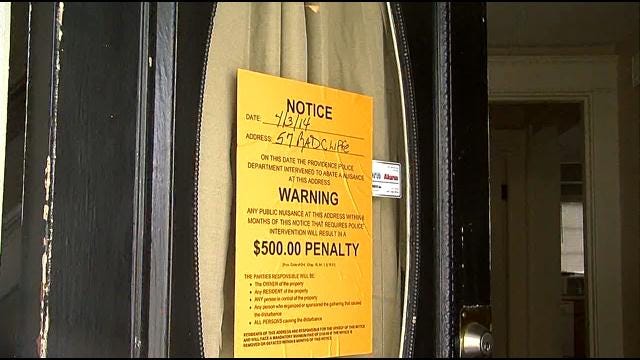 By Dana Griffin
@danaRgriffin
PROVIDENCE, RI- Orange stickers are popping up again on the front doors of college student's homes in Providence.
Have a late night party, fighting, even loud music, and everyone on the block knows you're the problem child in the neighborhood. But, for students tagged over the weekend, they say it's not fair to be publicly humiliated.
57 Radcliff Avenue is one of at least three homes essentially labeled a "party house" on April 3rd.
"The one time we have a party it gets out of control, but now we have this sticker and it's kind of like a scarlet letter," said Chelsea Galli.
Rhode Island College students, Marcela Barros and Chelsea Galli say they were throwing a birthday party for a friend last Friday night. Things got out of hand, a fight broke out and the girls called police for help. One week later, a bright–orange sticker was placed on their front door warning them to keep it down, or be fined $500.
Galli adds, "We're sorry for the disturbance we caused, but like as we said, this is our first time and I don't think we deserve this."
"Just to think that we all have to live subjected to what your visitors, what your guests are doing, that's unfair," said, Dawn–Everlina Cox. She says over the last 14 years the partying on this street has gotten progressively worse. She's fed up with trash, property damage, and parking issues from those rowdy parties.
"You don't want anything permanent to follow them throughout their lives or their careers but a little fine, a little hit in the pocket, that may be ok," said Cox.
On Oakland Avenue, red and blue Solo cups and empty beer cans liter yards near the home also hit with a nuisance sticker.
Johnson & Wales University student, Michael Romano said, "To each their own; it's definitely their right to call the cops or not call the cops, but on a Thursday or Friday night it's pretty much assumed that everyone in this neighborhood is going to be doing everything we were doing, partying."
Providence Police were unable to comment on these particular cases.
The homes must leave the stickers up for 6 months. If police are called out for another disturbance, residents, owners, and those making the disturbance will be fined $500.
©2014 ABC6/WLNE-TV. All Rights Reserved.