NYPD Commissioner addresses media in RI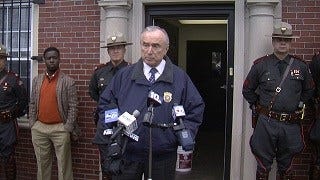 By: Samantha Lavien
Slavien@abc6.com
Twitter: @samanthalavien
Just days after the ambush of two New York City police officers, the city's police commissioner spoke out about the tragedy in Rhode Island.
Commissioner William Bratton stopped by the Lincoln Police Barracks Tuesday to pick up his car. He was visiting family in Boston over the weekend when the officers were killed. Rhode Island State Police troopers helped him get back to New York on a helicopter and he left his car at the barracks in the process.
Bratton commented about the violence in New York to the media Tuesday morning.
"This is a very tough time for American policing. It takes me back to when I came into policing in 1970. I had just come back from the Vietnam war, the uniform of the military was vilified at that time and the uniform of policing was vilified during that time also," said Commissioner Bratton.
Despite the violence, Commissioner Bratton says police will get through this.
"We'll come out of this. We will resolve differences and move on. It's a change moment and I think it will be a change for the positive," said Commissioner Bratton.
Police departments across the country are being extra vigilant in light of the officers deaths.
Here in Rhode Island, the State Police Superintendent says a big part of their prevention effort is community outreach.
"We're in the community talking to them. We don't see this as a race issue we see this as a police issue," said Col. Steven O'Donnell the Superintendent of the RI State Police.
The tragedy has many officers on edge. The Providence Police Union sent out a letter to their members urging police to take extra precautions while on the job.
In terms of the investigation, Commissioner Bratton didn't have many updates besides to say police are working to piece together where the shooter was in the hours leading up to the attack.
"For two hours we had no trace of him. We'd like to as far as trying to close out the case try to determine what he was doing during those two hours," said Commissioner Bratton.
A funeral for one of the officers killed is scheduled for Saturday. The second funeral is still in the process of being planned.
© WLNE-TV 2014