Obama to Boston: "You will run again"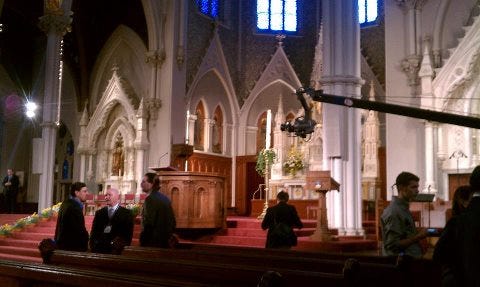 The Associated Press & ABC6 News
Photo: MGNOnline.com/ Whitehouse
It was an inspiring message for all of Boston today as the President spoke at the Interfaith Prayer Service following Monday's tragedy. "You will run again because that is what the people of Boston are made of," said Obama to applause.
As the mass began the President looked deep in thought as he sat in Boston's Holy Cross Cathedral aside his wife Michelle to honor the victims of the Boston Marathon bombings. Boston's Mayor for more than 20-years was one of the first to speak.
"I have never loved this city more," said Mayor Thomas Menino. "This was the strength of the city at work," continued Menino as he discussed the horrific events on Monday when two bombs exploded at the finish line of Boston Marathon injuring over 170 people and killing three.
"We are one Boston," said Menino. "No adversity. No challenge. Nothing can tear down the resilience in the heart of the city and its people."
The crowd included religious leaders from several faiths, dignitaries, Former Massachusetts Governor Mitt Romney and more than 2,000 people who gathered to mourn and pray after the bombings.
Boston's Cardinal Sean O'Mallley addressed the crowd as one of the religious leaders. He was followed by Massachusetts Governor Deval Patrick who proclaims, "Massachusetts invented America." He said, "We will recover and repair. We will rise and we will endure."
Patrick the introduced a somber Obama who delivered a moving message to the people of the United States.
Obama described Boston as one of "America's iconic cities, one of the world's greatest cities." He said that while not everyone lives in Boston the city is a part of everyone in the nation.
"Boston may be your home town, but we claim it, too," said Obama. He remembered his time in Boston when he attended Harvard. 'Like you Michelle and I have walked these streets.. Boston you're my home," said the President. "For millions of us what happened on Monday is personal.. it's personal."
He remembered the lives of the three victims of the bombing, 8-year-old Martin Richard, 29-year-old Krystle Campbell, and Lu Lingzi. He also reached out to the victims who remain hospitalized.
"As you begin this long journey of recovery your city is with you, your common wealth is with you, your country is with you," said Obama. "As you learn to stand, to walk, and to yes, run again."
"We may be momentarily knocked off our feet but we will pick ourselves up we will keep going we will finish the race," said Obama.
At the end of the speech a triumphant Obama announced that there will be an even bigger crowd with even more cheers next year at the 118th marathon.