Occupy Providence to march for housing rights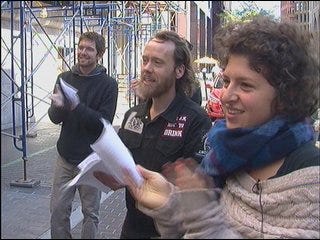 PROVIDENCE, R.I. (AP) – Occupy Providence is proposing a march to the Statehouse with other community groups to promote housing rights that would end with protesters pitching tents on the Capitol grounds.
Activist Michael McCarthy says the proposed Dec. 10 action would include a rally, march and call for more funding for the homeless as well as more rights for homeowners facing foreclosure.
Activists would then pitch tents at the Statehouse, though it wasn't immediately clear for how long.
The Rhode Island Homeless Advocacy Project and Direct Action for Rights and Equality would also take part.
Occupy activists will discuss the proposal during their Tuesday evening General Assembly meeting at Burnside Park.
They have been camping there without a permit since Oct. 15, and city officials want them to move.
(Copyright 2011 by The Associated Press. All Rights Reserved.)