Fall River man stops robbery, chases down teen suspect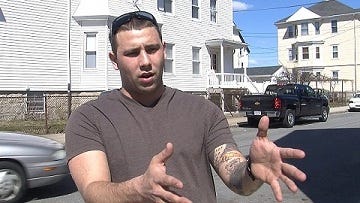 By: Melissa Toupin
Twitter: @MelissaToupin
Buffinton Street in Fall River is quiet most days. People living on the one way street mostly keep to themselves. That's why Cory Bedard was surprised when he heard a female neighbor on Lennox St. screaming for help.
"She was frantic. I asked her if she was okay, and she said 'I was just robbed!'" said Bedard.
At that very moment a teenage boy ran past Bedard carrying a purse in his hands. Bedard jumped into action, chased the teen several blocks, and eventually caught him. The 14-year-old was held until police could arrive.
"It was just a natural instinct. I didn't even think twice about it. I just ran," said Bedard.
Bedard is a correction officer in Bridgewater, and says his training just kind of kicked in.
The teen allegedly broke into several cars in the neighborhood where he stole cigarettes and loose change.
"He kept saying 'I needed the money. I needed the money,'" said Bedard.
The woman, who was moving into a new apartment, was able to get her belongings back.
While the humble officer says he did what anyone would do, neighbors are glad to have him on their side.
"It kind of comforts people in the neighborhood to know that he's around, " said Dennis Sentner.
A Fall River city councilor was driving by and witnessed Bedard's quick actions. On Tuesday night Bedard was presented with a heroism award.
© 2013 WLNE-TV