Offense Propels #14 Yale Past Brown Men's Lacrosse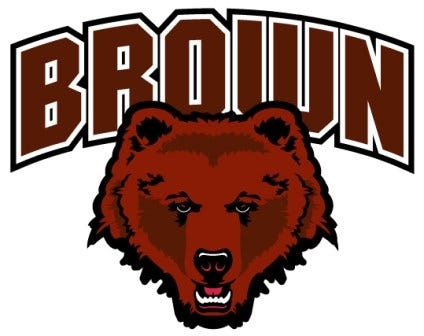 Brown University Press Release
New Haven, Conn. – #14 Yale junior attackman Ben Reeves registered a career high 10 points on five goals and five assists to lift Yale to an 18-12 Ivy League win over Brown Saturday afternoon to clinch a share of the Ivy League title, as well as claiming the number one seed to host the Ivy League Tournament.
Brown falls to 5-5 overall, 2-2 in the Ivy League, while Yale improves to 8-3, 5-0 in Ivy play.
Freshman attackman Jackson Newsome (Arlington, VA), making his second career start, paced the Bears with a career high four goals. Junior Steven Hudak (Rydal, PA) added two goals and one assist.
Bears' senior attackman Dylan Molloy (Setauket, NY), the reigning Tewaaraton Award winner, had three goals and one assist. With three goals, Molloy advanced into ninth place in all-time NCAA goals scored, now with184 career goals. His four points moved him into 11th place in all-time NCAA Division I scoring with 298 career points.
Senior long stick Larken Kemp (Greenwich, CT) turned in a yeoman's performance in the trenches for the Bear with a goal, five ground balls and two caused turnovers. He now has 107 career caused turnovers, 10th best in NCAA history. Bears' freshman goalie Phil Goss (San Francisco, CA) registered 15 saves in goal.
In addition to Reeves' 10 points, two other Yale players, Eric Scott and Matt Gaudet, scored four goals each. Bulldogs' goalie Phil Huffard registered 15 saves.
A wide-open opening quarter wasn't kind to either goalie with both teams scoring early and often in a wide-open opening 15 minutes.
After falling behind, 5-3, Brown got goals from sophomore Michael Panepinto (Needham, MA) and Kemp to tie the game, 5-5, with 17 seconds remaining. Yale won the ensuing face-off and quickly grabbed a 6-5 lead on a goal by Gaudet with three seconds left.
Reeves gave the Bulldogs a 7-5 lead to open the second quarter, but Molloy answered with two straight goals, all on his own effort, to knot the score, 7-7, with 7:24 left in the quarter.
Yale opened the second half with consecutive goals by Jack Tigh, Scott and Lucas Colter to open up a 10-7 advantage.
Hudak stopped the Yale scoring wave with his second goal of the game at 6:04 of the third quarter to cut the Bulldogs' lead to 10-8.
The Bulldogs seemingly took control of the game with goals by Scott and Reeves to open up a 12-8 lead with 4:33 remaining in the quarter.
Newsome drew the Bears to within 12-9, but Scott scored again for the Bulldogs for a 13-9 Yale lead. A late goal by Newsone with 5.5 seconds left cut Yale's lead to 13-10 after three quarters.
The final 15 minutes were all Yale, with the Bulldogs out-scoring the Bears by a 5-2 margin to secure the win.
The Bears are back in action again on Tuesday, April 18, traveling across town to battle the Providence College Friars. Face-off is 7:00 pm at Anderson Stadium.