Officer John Reposa Funeral held in Jamestown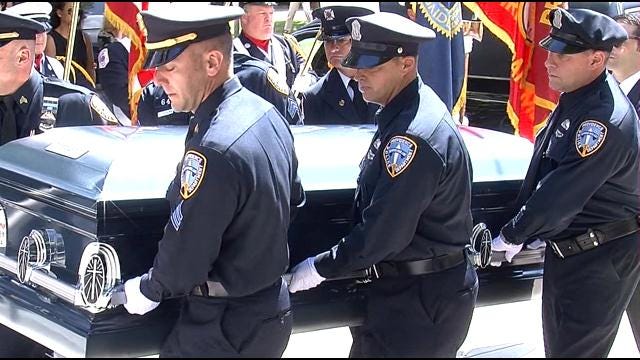 By Dana Griffin
JAMESTOWN, RI- As the Rhode Island Pipes and Drums Corp marches through the streets of Jamestown to St. Mark Church, a wind of emotion sweeps through the crowd of police officers and loved ones; Paying their respects for Providence Police officer, 43–year–old, John Reposa.
"Very sad and questioning why do these things happen. I can feel the sadness in town. I went into the market and everyone was just so subdued," said family friend, Diana Forest.
The 20-year police veteran was killed last weekend in a motorcycle crash while off–duty.
Officers from around the state saluted their friend and colleague as he was carried into the church.
Reposa is remembered as a great police officer; committed to his job, volunteering, and to the Pipes and Drums corp.
"That, and he always had a smile on his face. It was his attitude about life; I think that's what really moved people," said Providence Police Captain, George Stamatakos.
The church overflowed with people. Many listened on a loud speaker outside.
Cheryl Blazar, Reposa's friend said, "As you can see with the turn out, he was someone who was admired by many, many people from all over."
© 2013 WLNE-TV