Officials celebrate T.F. Green expansion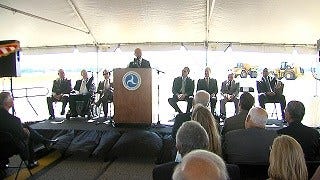 By: Samantha Lavien
Slavien@abc6.com
Twitter: @samanthalavien
Local, state and federal leaders joined together on the tarmac of T.F. Green Airport on Monday to celebrate the multi–million dollar expansion project currently underway.
"This is about jobs, growth, the future of Rhode Island," said Senator Jack Reed.
There are nine different projects in the works, the biggest of which involves expanding the primary runway by some 1,500 feet to allow larger and heavier planes at the airport.
"It certainly makes it a place that will be attractive to carriers," said U.S. Secretary of Transportation.
Last week the airport announced that Condor Airlines will begin offering flights to Germany next summer. This will be the first international travel ever offered at the Rhode Island airport.
"I think and hope that more and more people will say this is the place to have operations," said Senator Reed.
Other projects underway include the demolition of Hanger 1, the relocation of Winslow Park and Main Avenue and safety improvements like the EMAS system which is designed to quickly slow and stop an aircraft that over runs the runway.
Through the years there were many opposed to the plans, Mayor Scott Avedisian says he never thought this day would come.
"I'm not sure I ever fully believed that we would get to this day," said Avedisian.
The mayor says EMAS was one of the reasons that city members finally agreed to allow the project to move forward.
"Originally airport road and post road were going to have to go away and we'd have to create a whole brand new road system and the EMAS system or the crushable concrete really allowed the whole dynamic to change," said Avedisian.
Construction at the airport is expected to continue until 2017.
(C) WLNE-TV 2014