Officials concerned about other vacant mills in Fall River after fire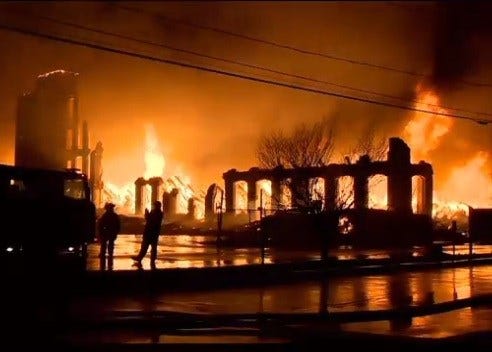 By Rebecca Turco
rturco@abc6.com
Firefighters were still putting out hot spots Monday, more than two days after a massive fire tore through a mostly vacant mill in Fall River.
As investigators look into what caused the fire, the mayor is now concerned about the safety of other vacant mills.
"Fall River is home to 77 mills. We're told there have been five mill fires in the past 15 years," said Mayor Jasiel Correia. "Going forward, very concerned. Concerned about a lot of the other vacant mills."
Those vacant mills are prone to looters and squatters, and because a good portion of them are old, they don't have sprinkler systems, which is part of the reason why Saturday's massive fire spread so fast.
It's a problem in other cities are dealing with too, like the massive mill fire in Providence last year, and another in Lincoln in 2013.
Neighbors who love next to the mill on Kilburn Street are worried the same thing could happen there.
"If that ever catches on fire, that'll be a tragedy and everybody will go with it," says resident Edward Luciano.
That mill is the only one the city owns. Officials filed for a demolition permit last month. As far as what to do about the other mills, the mayor says that's been on his radar.
"The goal in this administration is prioritize the ones that are unsafe, address those first, and then begin to redevelop both as standing structures and as new properties," says Correia.
Monday, investigators finally started to look into what caused the fire. They weren't able to before because it was considered unsafe. That process could take days or more. Officials have said they believe the fire could be suspicious.
© WLNE-TV 2016