Officials: PawSox Stadium deal dead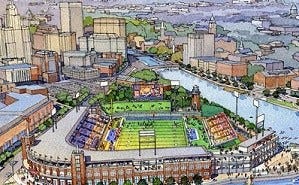 By: Melissa Randall
mrandall@abc6.com
@MRandallABC6
The deal that would have brought a downtown ball park to the Providence River front is officially dead, according to a spokesperson for the PawSox. The organization decided to pull the plug on the I-195 land in Providence after Rhode Island's Governor determined that the site is "not suitable for construction of a new ball park."
PawSox owners have suspended their pursuit of that location, and will instead start looking into other options. They plan to consider other options and proposals, including ones in the Capitol City.
"We believe the site along the Providence River is exceptional, and it would have been a win-win-win for the state, the city, and the PawSox, and we tried hard to bring it to fruition," said PawSox Chairman Larry Lucchino, who is also President/CEO of the Boston Red Sox. "We have received word that the site still confronts certain obstacles and lacks the necessary support, and we have been urged to consider other possible sites."
The club plans to focus its energy to preparing for the 2016 season in Pawtucket at McCoy Stadium, but says it will continue to listen to ideas and plans regarding the long-term future of the franchise.
Nicholas Mattiello, Speaker of the House, issued a statement Saturday evening saying in part that he is disappointed the negotiations have ended.
"I thought that would have been a very successful location. A stadium there would have brought the community together and would have acted as a catalyst for further economic development in Providence," said Mattiello.
"Unfortunately, different entities put artificially high costs on a deal, which proved to be insurmountable," he added.
The Speaker continues to believe that the PawSox are a valuable asset to the state, and says he will consider other viable options that the team may bring forward in the future.
© WLNE-TV 2015