Officials say welding sparks caused fatal Boston fire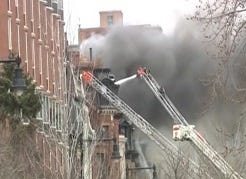 By: Samantha Lavien
Twitter: @samanthalavien
As a heartbreaking week in Boston spent burying two city firefighters comes to a close, the city's Fire Commissioner, John Hasson says welding caused the fire.
In a press conference on Friday, Hasson says welders were working on a handrail in the back of the Beacon Street building next door when sparks started the fire that killed Lt. Ed Walsh and firefighter Michael Kennedy.
"What happened is probably the slag or the sparks from the welding operation got in under the boards, the shingles, festered there for a while, the fire ignited, it got rolling, was fed by the wind, and ultimately consumed the whole building," said Hasson.
Commissioner Hasson says a permit is required for welding work. There was no permit on record for this job.
"The nature, extent and circumstances of that work remain under intense scrutiny by investigators," said Suffolk County Assistant District Attorney Ed Zabin.
In a statement the owner of the building where the work was being done said it contracted with a company to install the safety railings and was under the impression that they would be prefabricated offsite.
It is unclear at this point whether any charges will be filed.
"It's a tragic outcome but we are confident that this was an unintentional death at this time. Whether anybody should be held culpable for this event, as the investigation goes on, that will be a determination made," said Boston's Police Commissioner, Bill Evans.
In addition to the two firefighters killed, 13 others were injured in the fire.
(C) WLNE-TV 2014