Officials urging those returning from holiday trips to get tested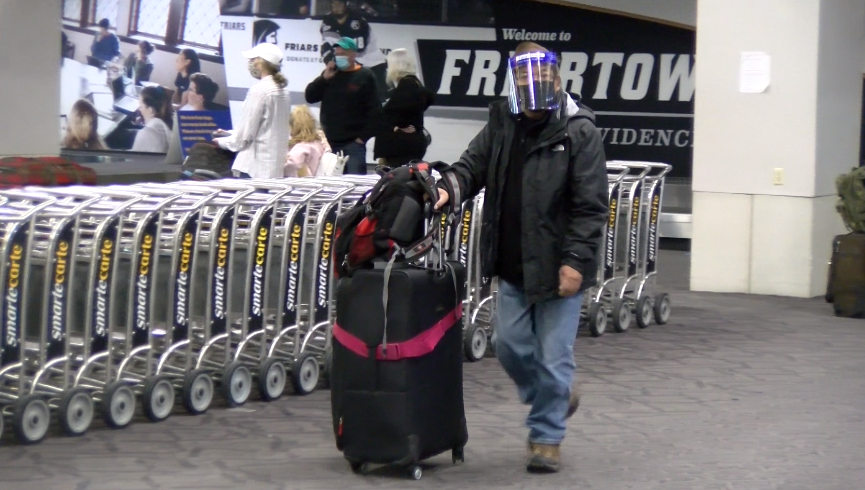 WARWICK, R.I. (WLNE) – Across the country, TSA screened more than 6 million people over the course of Easter weekend, marking a huge spike in travel since the beginning of the pandemic.
As many people return back to the Ocean State, health officials are urging people to get tested as COVID variants pick up speed and concerns about a potential fourth surge rise.
Travelers like Bella and Brooke Celeste returned back to Rhode Island after a long-awaited trip to Florida.
"We went to Orlando, Florida. We stopped in at Disney World, of course," Bella Celeste said.
The sisters said they felt safe on the plane and at all of the parks and plan to get tested before returning back to work and school.
"Disney does a really good job at making you feel totally safe and secure during all of this stuff," Bella Celeste said. "They've got people who are really on you about the masks, they've got distancing, and everywhere you turn there's a hand sanitizer thing."
While many traveled on vacation for the first holiday since vaccines became widely available, others like Keith Branco went to visit family.
"Unfortunately, I had a death in my family," Branco said. "I've been traveling back and forth; this is about my 6th trip in about 5 months."
Branco says even though restrictions are loose in Florida, he felt safe traveling and is thankful he could be with his family during this tough time.
"In Florida, even though they don't wear masks half the time, in the airports they do," Branco said. "I've felt very safe and confident flying."
Travelers at T.F. Green have the opportunity to get a rapid COVID testing at the arrivals gate near baggage claim.
Officials continue to urge people to get tested when returning from a trip.
"If you have unvaccinated people mingling, I do worry about another surge, that's what we see after every holiday," Brown University's Dr. Ashish Jha said.
Dr. Jha says this is likely the last major holiday where unvaccinated people gathered. He says as more people get vaccinated, domestic travel is safe to do; however, he is concerned about international travel and possible variants spreading here to the U.S.
"Much of the evidence says that people who get vaccinated are not going to transmit the virus to others. Again, that's not sort of fool proof yet, but it does look like that pretty strongly," Dr. Jha said.
If you did travel from a country outside the United States, the Department of Health asks Rhode Islanders to quarantine. They recommend to get tested on day 5 of the quarantine and say if you test negative, you can shorten your quarantine from 14 to 7 days.