Oil Delivery Companies challenged by snow piles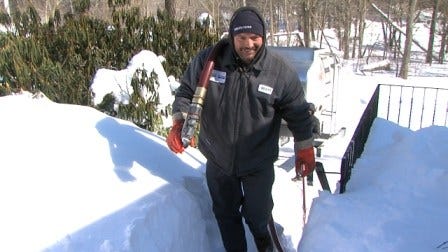 By Matt Blanchette
@mattblanchette
With temperatures at or below zero this week, local oil companies are extremely busy right now.
Some are backed up over a week while others aren't even taking orders.
"Normally we have two trucks out. I am the third driver so I have been out now for a couple of weeks every day delivering just to keep up with it all," Matt Desrosiers of Bousquet Oil said.
All those orders have him back in the truck. At times he's part delivery man, part mountain climber.
"If you are pulling them 50 or 60 feet, sometimes you have to jump over a fence because you can't open the gate because the path isn't done. Those are the more difficult ones," he said.
In this case, the homeowner made his job a bit easier.
"I am very thankful to my husband for doing that yesterday because he could not get the snowblower going so he must have done it by hand,"
Carolyn Cody of Cumberland said.
"Just keep up on it if they can. It is much appreciated," Desrosiers said.
Though it is appreciated, paths are not always cleared, but in almost all cases the deliveries will still be made
"I'll get it done, but I will leave a note behind. "please clear your path for the next delivery," he said.