OJ Simpson case referenced during Hernandez trial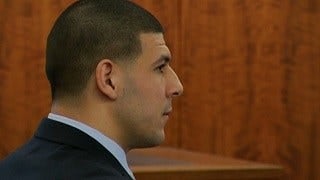 By: Samantha Lavien
Slavien@abc6.com
Twitter: SLavienABC6
Much of the focus in the Aaron Hernandez murder trial Thursday was on what will happen Friday when jurors visit the home of the former football star.
Prosecutor Patrick Bomberg told the judge he toured Hernandez's house on Wednesday. He said that several objects have been added to the home in an effort to sway the jury since Odin Llyod was murdered in 2013
"In regards to photographs, memorabilia, items relating to overt displays of religion," said Bomberg.
The Commonwealth compared this staging to the 1995 OJ Simpson murder trial where several items in that house were changed in order to manipulate the jury's perception.
The Judge ordered that items added to Hernandez's home be removed before jurors tour the house.
Testimony was heard from several law enforcement agencies during the rest of the day. Officers answered questions about the storm that rolled into the area shortly after Lloyd's body was discovered.
"Five shell casings all together were located at the scene. We made a determination to collect the baseball cap, the towel, and also the blunt," said North Attleboro police officer James Direnzo.
Police testified they removed items before crime scene services arrived because they didn't want them to blow away.
The defense continuously called into question the integrity of that investigation.
During a lighter moment in the trial, the defense made a joke about deflategate while questioning an officer about tire pressure.
Jurors will tour Hernandez's North Attleboro home and Lloyd's family's home in Dorchester on Friday.
(C) WLNE 2015