Old North Providence school to become 'Hero Building'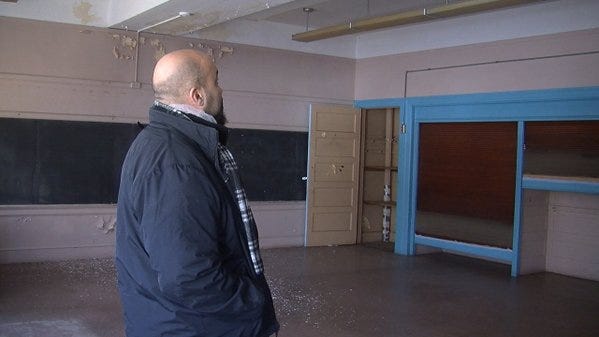 By Bianca Buono
@BBuonoABC6
The transformation of a run-down building in North Providence is officially underway.
The E.A. Brayton School on Thomas Street is falling apart but it will soon become a hub for non-profit organizations and it's all because of a local family.
"There's lead paint, there's some old lighting, there's some old wiring," said Erik Deneault as he described the old E.A. Brayton School on Thomas Street in North Providence.
He and his wife dawn are the proud new owners of the rundown building.
"I think the bones are structurally good where we can do a lot with it," Erik described.
The old school that's been vacant since 2009 will soon become the 'Hero Building', a center for nonprofit organizations like theirs, The Little Heroes Fund.
It's an effort to assist parents raising kids with special needs and it was inspired by their six-year-old daughter Danica.
She was born with a rare disorder called Aicardi Syndrome.
"They said she would statistically never eat or breathe, walk or talk, most likely be blind, have hundreds of seizures daily and have a life expectancy of only six or seven years old," said Deneault.
Over the past six years, Danica has defied the odds and their non-profit has taken off and outgrown their home. So Erik turned to the town.
"I have a soft heart for these type of organizations," said North Providence Mayor Charles Lombardi.
Mayor Charles Lombardi wanted to help and knew that the vacant school was costing taxpayers around $14,000 a year for maintenance.
So they worked out a deal.
"For two years, they'll have use of this property at no cost. And then we set up a payment program for the third, fourth and fifth year," Lombardi said.
Erik hopes to have the roof and windows, along with the entire first floor, finished by spring and is offering space to any nonprofit in northern Rhode Island that needs it.
"I think taking the next step and really trying to impact more kids on a bigger scale, this had to have happened," Deneault said.
The Deneault family is paying for the maintenance of this building. So far, all of the funds have come out of pocket; but they're in the process of applying for state and federal grant money.
© WLNE-TV 2016