One day after Lincoln mill fire, biz owner thankful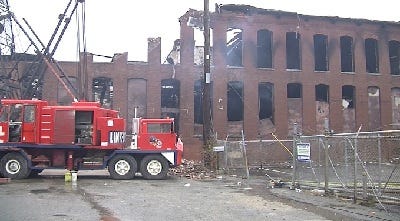 Nicole Gerber
@nicolegerber
LINCOLN – A Lincoln business owner is thankful today after a massive fire at an abandoned mill breaks out just feet away from her shop.
"The sign is melted… but the flowers are green, and inside,
inside, you can't even tell there was a fire!" said Pat Ryan, owner of Ryco, a textile business right next door to the mill.
She'll have to make some minor repairs, but for the most
part her shop is untouched. She's faced much worse in the past.
"You know, this is my life's blood. This is my joy, my
passion," she said. "And we were destroyed by a flood 8 years ago, and then 3 years ago we
had another flood… and now we have a fire. So, you can imagine how we feel."
Ryan was joined by fire investigators at the mill today.
Crews from the fire marshal's office and the bureau of Alcohol, Tobacco, and Firearms are still searching for what sparked the 6 alarm
blaze.
They'll be reviewing some security footage from cameras outside
of Ryan's shop, also untouched by the flames.
"Right now I'm just grateful," Ryan said.
Both fire officials and construction teams were called off
just before 2:00 PM today because of some impending bad weather.
Heavy rains and strong winds would create a dangerous
situation for anyone working inside or near the building, which isn't
structurally sound.
Crews will continue their work at the mill tomorrow morning
beginning at 9 am. They'll be removing boards from the roof to make sure there
aren't any more hotspots, and once they determine the cause of the fire, parts of the building will be demolished.
Fire crews will be on a 24 hour watch until investigators
return, in case strong wings cause any new flare ups.
(c) WLNE – TV