One dead another, injured in North Providence shooting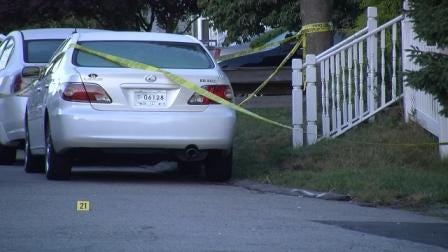 By: News Staff
Email: news@abc6.com
A man is dead after being gunned down during an early morning home invasion in North Providence on Monday. The victim has been identified as 26-year-old Richard Catalano. A female who was inside the home at the time was also shot. She is expected to recover from her injuries.
Many residents were woken up just after midnight to the sound of gunshots and are shocked and horrified at what happened on Eliot Avenue, off of Mineral Spring Avenue.

"That's close to home. Too close to home actually," neighbor Marc Zaccagnini said.

Police were called to the for a home invasion. Inside they found Catalano shot to death. Another man and a woman were also shot.
Isaac Nakka, a clerk at the 24 hour gas station across the street, knew the victim. He says Catalano was in his store just hours before he was killed.

"He's a nice kid. He comes here often- every day- like 4 times a day. He does his thing. I think he's a nice kid," Nakka said. The crime scene is spread out with a bloody handprint stained on the door to a neighbor's house. Zaccagnini has lived up the street for 8 years.

"It's not typical of this street. I didn't think something like that would happen in my neighborhood. It kinds of a little scary," he said.

As of Monday afternoon, police have not released a motive, but say this is believed to be an isolated incident and that the community should be at ease.
(C) WLNE-TV 2014