One Teen Making Girls Prom Dreams Come True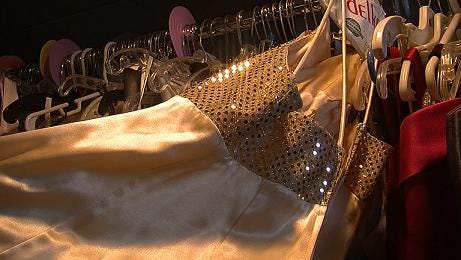 This week is Winter Break for most schools, which means a lot of kids are on vacation, going out with their friends, or lounging on their couch. They might be out shopping for the prom, which is just months away.
One Dighton-Rehoboth senior is making prom dreams come true for girls who can't afford the expensive dresses. 17-year-old Danielle Brodeur is collecting prom dresses for girls and giving them away for free.
The dresses have been donated from all types of people. Brodeur says, "Just dresses that people have had from anything they've gone in or they know people who've had them and they've just donated them to me."
Brodeur started "Project Dress Up" last year as part of her effort to earn the Gold Award in Girl Scouts. It's the highest award, given to those who make a difference in the community.
Brodeur earned the Gold Award, but never cleaned out the basement. She enjoyed the project so much, that she's doing it again this year.
"It's nice knowing that I can put a smile on a girls face just giving her a dress," laughed Brodeur.
Brodeur has collected a thousand dress in sizes 0 to 28. They line her basement in Dighton with everything from sparkles to satin. It's a high school girls prom dream.
Brodeur still has a lot of work to do before they go on display at a local church in a couple of weeks.
"It's taken up a lot of time pretty much every weekend, every school vacation I've spent on this," she said.
She does it with a smile making her mom Diane very proud.
Diane Brodeur says, "words can't describe how I feel it's just unbelievable, unbelievable."
Brodeur will be off to college next year, but her little sister plans to continue her work.
14-year-old Anna Brodeur says, "It's a lot of work, but I want to do it."
All the dresses will be packed up and moved to St. Nicholas of Myra Church in North Dighton. The dresses will be given away to girls on March 10th from 10am to 3pm and on March 11th from noon to 3pm.
Anyone interested in donating can contact Danielle at 774-319-138 or 508-669-6223.