One year after fire, Old Grist Mill Tavern coming back to life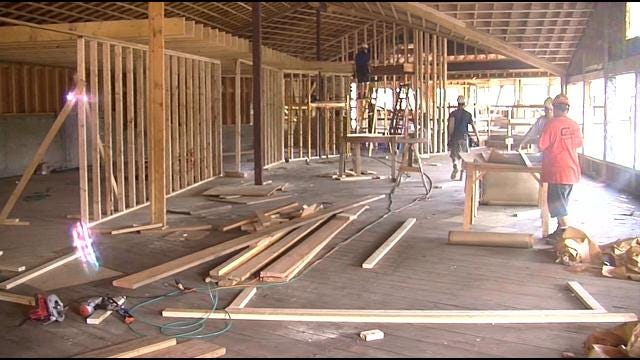 By: Alexandra Cowley
One year after a fire destroyed a Seekonk landmark, progress can be seen at the Old Grist Mill Tavern. But, the process of restoring the more than 200-year-old building hasn't been easy. Owner Greg Esmay vowed he would do his best to keep as much of the original restaurant as he could. Esmay is keeping his word, but it's costing him a lot of time and money.
"It's kind of a learning experience, I run restaurants, I've never built one. I'm trying to build something back to what it was, not reinvent it," explained Esmay.
Last year a tractor trailor came barreling around a corner and hit a gas main, pulling down electrical wires. Those wires caused an explosion and fire. A pile of rubble was all that was left of the restaurant so many grew up with. Which is why Esmay never doubted his decision to bring the beloved landmark back to life.
"We're trying to rebuild the Old Grist Mill as best we can, using as much of the Old Grist Mill as possible," he said.
Another change also in the works, is fixing the problematic intersection that caused the fire in the first place. The town plans to put in a traffic light at the intersection of Fall River and Arcade Avenues next summer.
The restoration project is estimated to cost around 3.3 million dollars. Esmay says it's a worthy investment, because like so many others, he has a history at the Tavern. He expects the restaurant to be open for business in late Fall.