Organizers: Station Nightclub Memorial construction to begin soon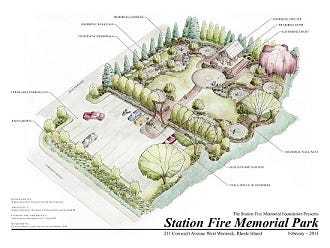 By: Samantha Lavien
Twitter: @samanthalavien
Eleven years later there's still about $1.8 million in fundraising to go to build a permanent Station Nightclub memorial in West Warwick, but despite the lack of funds organizers says construction will begin in a few months.
"The construction is starting. We have enough funds to start our project. Early on there may be things that will be donated so we don't need the money to get a lot of materials in the beginning that's the hope and the goal," said Gina Russo the President of the Station Nightclub Memorial Foundation.
One hundred people were killed in the nightclub fire and the process to build the memorial has been a long and grueling one. Just about a month ago a professional fundraiser was hired to help.
"We are in the very very early stages of meeting with him so there's not a lot of action with that right now," said Russo.
To date a little more than $200,000 of the $2 million needed has been raised.
Jody King as one of the many to attend Monday night's meeting. He was responsible for putting together a $200,000 satellite memorial in Warwick which took 10 years to build.
"They take a lot more time than the general public thinks, there's a lot more stuff going on behind the scenes," said King whose brother was killed in the fire.
King says money was a struggle for him as well, but he says he is confident the funding for the West Warwick memorial will come through.
"It will get done, the money will get there it is just a matter of time," said King.
Russo says construction can begin as soon as approval is given by the DEM, the DOT and the town of West Warwick.