O'Shea named NEC Coach of the Year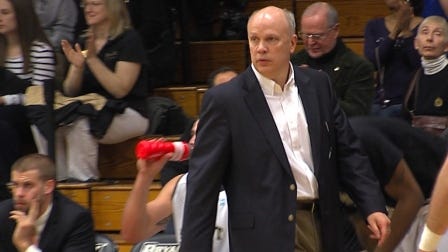 Bryant Release
SMITHFIELD, R.I. — The Bryant University men's basketball team
highlights a big year on the court with some big postseason honors
Tuesday, as the Northeast Conference named three Bulldogs to
all-conference teams and gave head coach Tim O'Shea the accolade he's been worthy of all year.
The 2012-13 Jim Phelan NEC Coach of the Year, as voted by his peers
within the league, O'Shea has guided his Bulldogs to a remarkable and
potentially unprecedented turnaround in this season. But that incredible
improvement wouldn't have been possible without his players, a trio of
whom were also rewarded for their 2012-13 campaigns with postseason
recognitions. Headlined by a first-team nod for junior forward Alex Francis (Harlem, N.Y.), Bryant also saw sophomore transfer and first-year Bulldog guard Dyami Starks (Duluth, Minn.) earn All-NEC Second Team accolades while fifth-year senior point guard Frankie Dobbs (Berea, Ohio) grabbed third team honors. Bryant is one of just two teams to see three players selected to all-conference squads.
Francis, the 2010-11 NEC Rookie of the Year, has developed into a
dominant interior force for the Bulldogs during his tenure and possesses
elite-level athleticism. The 6-foot-6 forward currently ranks in the
NEC top-five in four categories: scoring (17.1, fifth), rebounding (8.7,
third), field goal percentage (.574, third) and double-doubles (10,
tied for first) and leads the team in the latter three. Francis is just
three points shy of 500 on the season entering Wednesday's NEC
Quarterfinal matchup and has accumulated 1,449 points and 713 rebounds
in his three years, scoring his 1,000th-career point in Bryant's home
opener back in November. With a postseason run and a big senior season,
Francis could become the first player in both league and program history
to finish with 2,000 points and 1,000 rebounds.
It's no coincidence that Bryant's historic turnaround has coincided
with Starks's arrival on the scene in Smithfield. A dynamic pure scorer
and terrific pull up jump shooter, the sophomore transfer has put up a
team-high 17.7 points per game for the Bulldogs. The fourth-leading
scorer in the NEC also leads the circuit with 88 trifectas, setting a
Bryant Division I record for single-season 3-pointers, and averages 3.03
per contest, good for 15th in the nation. Starks picked up his 500th
point of the year in the regular-season finale Saturday and has 12
outings of 20 points or more in 2012-13, hitting the 25-point mark eight
times. The Columbia transfer hits at a 45.5 percent clip from the floor
and is shooting at an efficient 40.6 percent rate from outside the arc.
Unquestionably the floor general for the Black and Gold, Dobbs is an
irreplaceable piece of the Bulldog puzzle that is at the very heart of
not just Bryant's impressive campaign this year, but its entire
transition into the Division I era. The senior captain unleashed his
full arsenal in 2012-13 and proved how dangerous he can be, not only
able to beat opponents with his scoring (13.6 ppg), but also with his
passing abilities (5.1 apg ranks fifth in the NEC), free throw shooting
(.789, seventh) and 3-point marksmanship (48 on the year). Dobbs has
left his mark in his three years with the Bulldogs, having tallied 1,152
points and 442 assists in a Bryant uniform while entering postseason
play with 1,212-career points, 333-career rebounds and 489-career dimes.
Now in his fifth season at the helm of the Bryant program, O'Shea has
not only led the Bulldogs through the arduous NCAA reclassification
process, but has also produced a one-year transformation that will go
down in the history books. Following a 2-28 season a year ago, Bryant
was picked 10th in the NEC Preseason Coaches Poll but served notice to
its conference foes with breakthrough non-league wins over Boston
College and Lehigh on the road. Armed with two impact transfers and a
number of talented veterans, once the Bulldogs jumped out to a 6-0 start
in NEC play, fans at the Chace Athletic Center began to take notice and
a contender was born. By season's end, O'Shea and his troops had been
ranked in the Mid-Major Top 25 for seven weeks and claimed the #4 seed
in the NEC Tournament in its first year of postseason eligibility,
finishing the regular season with a 19-10 overall record. The Bulldogs
can now boast the best single-season turnaround in NCAA history entering
Wednesday's quarterfinal matchup (17.5 games), and they also lead the
nation in pure win improvement, earning 17 more victories in 2012-13
than a season ago. The 17-win jump is also the biggest in NEC history,
eclipsing CCSU's 15-win jump from 1997-98 to 1998-99, and the 11-win
bump in NEC play is the most in league annals, one better than LIU
Brooklyn's 10-win improvement from 1995-96 to 1996-97.
O'Shea's Coach of the Year accolade is the second major NEC
postseason honor for the Bulldogs, following Francis's 2010-11 Rookie of
the Year selection. Francis is the first player to garner an All-NEC
First Team selection in program history, while the trio doubles Bryant's
all-conference total (now six) since the program first became eligible
for NEC postseason honors in 2009-10.
Now, the Bulldogs will look to add yet another program first to their
2012-13 resume — a Division I postseason victory. Bryant will go for
that win Wednesday at 7:00 p.m., when #4 Bryant hosts #5 Mount St.
Mary's at the Chace Athletic Center in the Northeast Conference
Tournament Quarterfinals.