Owens Shines In AAA Debut As PawSox Blank Clippers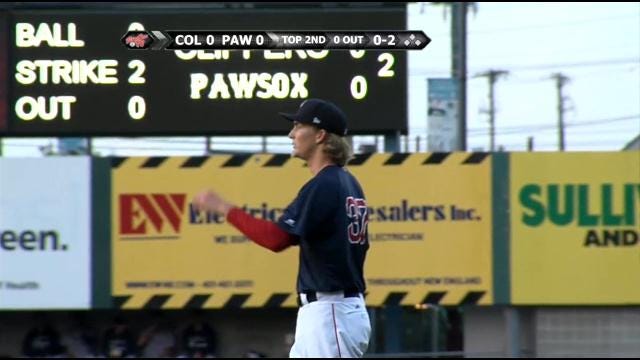 Pawtucket Red Sox Press Release
Pawtucket, RI – Pawtucket starter Henry Owens dazzled in his Triple-A debut, tossing 6.2 scoreless innings with nine strikeouts and combined with two relievers on a four-hit shutout as the PawSox blanked the Columbus Clippers, 5-0, Monday night at McCoy Stadium in front of 8,161 fans to snap a three-game losing skid.
Owens (1-0) held Columbus without a hit through the first 5.1 innings before Francisco Lindor's infield single. The 22-year-old worked well with catcher Blake Swihart, another 22-year-old super-prospect who was also making his PawSox debut after being promoted from Double-A Portland earlier in the day.
With the victory, the PawSox moved 0.5 games ahead of Rochester in the IL wildcard standings after the Red Wings lost 5-1 at Louisville. Pawtucket (64-53) moved to within 0.5 games of Syracuse (63-51) in the North Division standings, pending the Chiefs result at home against Scranton/Wilkes-Barre.
Bryce Brentz, playing in only his second game back after a 2 ½-month stint on the disabled list, homered and went 3-for-4 to pace the PawSox 12-hit attack. After the game was scoreless through three innings, Pawtucket struck for five runs over the next four innings against Clippers starter Tyler Cloyd (9-6).
RBI hits from Garin Cecchini (single) and Deven Marrero (double) highlighted the PawSox's two-run, four-hit rally against Cloyd in the fourth to go in front 2-0. Travis Shaw's double-play groundout in the fifth increased the margin to 3-0, then Brentz (7) and Derrik Gibson (2) hit leadoff solo homers in the sixth and seventh innings respectively.
Owens allowed two hits and three walks in his 6.2 innings of work and earned his professional baseball-leading 15th victory of the season. John Ely (1.1 innings, one hit) and Drake Britton (1.0 innings, one hit) finished the shutout for Pawtucket.
Justin Henry went 3-for-3 with a walk and a run scored for the PawSox, while Swihart went 0-for-3 with a strikeout in his Triple-A debut. Cloyd, one start removed from pitching a nine-inning no-hitter, permitted 11 hits and five runs in 7.0 innings of work.
The PawSox seven-game homestand concludes Tuesday afternoon as the finale of the four-game series is scheduled to begin at 12:05 pm. Left-hander Edwin Escobar (0-0, 1.50) is expected to get the ball for manager Kevin Boles, while righty Zach McAllister (5-0, 2.23) is expected start for the Clippers.
Good seats are still available at the McCoy Stadium box office, by calling (401) 724-7300 or by visiting pawsox.com. Radio coverage on 920 AM (WHJJ) and also streaming online begins at 11:50 am.