Owner Of Blackstone Home Given Demolition Deadline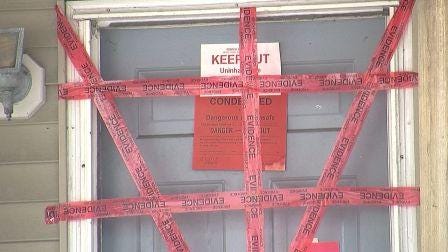 By: Liz Tufts
The clock is ticking for the owner of the house of horrors in Blackstone.
The town's board of health voted Tuesday night to knock down the home at 23 St. Paul Street where 3 infants were found dead inside.
The couple living there was arrested and four children were removed.
Officials gave the owner….Kristina Whitney of Woonsocket seven days from today to tear it down.
If she doesn't meet the deadline, the town will do it within the next 45 days.
They say the job won't be cheap or easy.
"We will put up safety nets in place we will be watering the building down we have to treat the floors but we will make sure the neighborhood will be safe, " says Bill Walsh, Blackstone's Health Director,
The town is estimating the demolition costs will be between 12 and 20 thousand dollars.
If the homeowner misses the 7–day deadline, she'll be charged 500 dollars a day.
That's on top of the 20–thousand she already owes for the clean up.