P-Bruins Beat Hershey to Force Deciding Game 5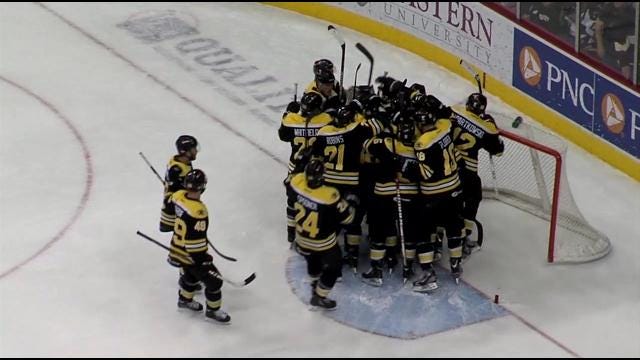 Hershey, PA — Carter Camper notched a hat trick in the Providence Bruins' 5-4 win over the Hershey Bears in Game 4 of the Eastern Conference Quarterfinals at the Giant Center Sunday evening to force a Game 5 Wednesday evening at 7:05pm at the Dunkin' Donuts Center. The P-Bruins took the lead for good with 1:04 left in regulation, when Camper tallied his third goal of the night.
Camper started the scoring with a redirection right in front of the net at 8:01 of the first period. Matt Bartkowski sent a slap pass straight to Camper in the opposite end of the zone, while Jordan Caron screened Hershey Bears goalie Philipp Grubauer. Graham Mink added the secondary helper on the goal.
Mink doubled the Providence lead, while on the man advantage. He buried a rebound created by Caron's shot that wobbled over Grubauer's leg at the 12:10 mark.
The Bears added their own power play goal to cut the deficit in half. With 37 seconds left on a man advantage, Joey Crabb and Ryan Potulny played give-and-go from the near corner to right in front of the Providence net. Crabb scored his third goal of the series, making it 2-1 Providence at 1:58 of the second.
The Bears tied the game for the first time with 16:18 left in regulation on a deflection from the middle of slot past Niklas Svedberg. Casey Wellman's second goal of the series knotted the game up at 2 apiece. Peter Leblanc and the Bears thought they had taken a 3-2 lead later in the period, but LeBlanc's score was disallowed.
Instead, Camper gave the P-Bruins a 3-2 lead with his second goal of the contest at the 8:10 mark. He sent a Caron rebound past Grubauer. Wellman tied it up again for Hershey at the 11:45 mark with a shot right out of the faceoff. The Bears took their first lead of the game when Tom Wilson registered his first AHL goal with a go-ahead strike with only 4:40 remaining. He came straight off the bench into the rush and put the Bears up 4-3.
Craig Cunningham scored his first goal of the series on the power play after a Nicolas Deschamps delay of game minor, giving the P-Bruins their second man advantage goal of the game. Camper clinched his hat trick and another home game in Providence with a booming slapper over the glove of Grubauer for a 5-4 lead with 1:04 left.
Svedberg made 28 saves in the victory, while Grubauer had 32 blocks in the defeat. The P-Bruins ended the game two-for-four on the power play and five-for-six killing Hershey's man advantages.