P-Bruins Khokhlachev Names AHL Player of the Week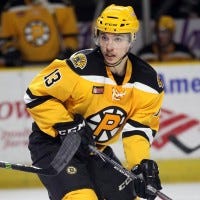 AHL news release…
SPRINGFIELD, Mass. … The American Hockey League announced today that Providence Bruins center Alexander Khokhlachev has been selected as the CCM/AHL Player of the Week for the period ending Mar. 9, 2014.
Khokhlachev notched three goals and six assists for nine points in three games for the Bruins last week.
On Friday night, Khokhlachev scored a power-play goal,
earned an assist and was named the game's second star in a 5-4 shootout
loss to Worcester. On Saturday, he again had a goal and an assist in
Providence's 4-2 defeat at Manchester. And on Sunday, Khokhlachev tied
an AHL season high with five points, scoring once and recording four
assists as the Bruins defeated Adirondack, 9-3.
A second-round draft choice (40th overall) by the Boston
Bruins in 2011, Khokhlachev has tallied 18 goals and 28 assists for 46
points along with a plus-13 rating in 51 games for Providence this
season, and ranks fourth among all AHL rookies in both assists and
points. Khokhlachev, a 20-year-old native of Moscow, Russia, totaled
193 points in 152 games over three junior seasons with Windsor of the
Ontario Hockey League, and made his North American pro debut with
Providence at the end of the 2012-13 season.
In recognition of his achievement, Khokhlachev will be
presented with an etched crystal award prior to an upcoming Bruins home
game.