P-Bruins Lose Playoff Opener at the Dunk in Overtime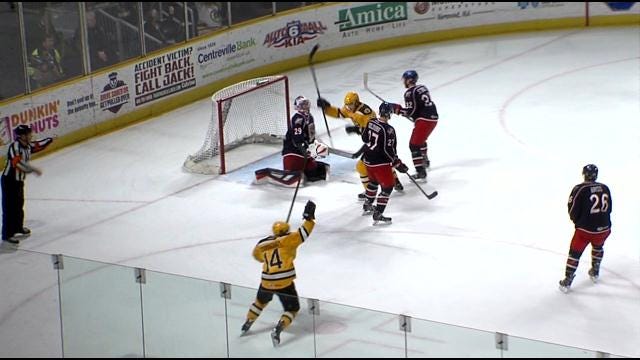 P-Bruins news release…
Providence, R.I. – The Providence Bruins were defeated by the Springfield Falcons, 3-2 in overtime. David Warsofsky and Ryan Spooner scored in regulation for the P-Bruins while Niklas Svedberg made 34 saves. The series is now 1-0 in favor of the Falcons.
In the first period, the P-Bruins and Falcons exchanged quality scoring opportunities early on.
Both teams started the game strong, but a series of undisciplined penalties challenged the goaltenders to make some great saves.
The home team gained momentum on the power play at the 13:41 mark. Warsofsky took a hard slap shot from the blue line that sailed cleanly past Falcons net-minder Mike McKenna.
The goal marked the first of this year's Calder Cup playoffs and also Warsofsky's first playoff goal of his career. The assists were awarded to Zach Trotman and Ryan Spooner as the P-Bruins led the way into the first intermission, 1-0.
It was not long into the second period when the Falcons found a way to tie the game. At the 2:46 mark, Jean-Francois Jacques scored when he tipped in a bouncing puck. Teammates Marko Dano and Michael Chaput assisted on the play.
Despite the P-Bruins having great scoring chances, the Falcons scored at the 16:14 mark. Ryan Craig carried the puck far enough to poke check it past Svedberg. Patrick McNeill and Andrew Joudrey were awarded the assists.
The Falcons took a 2-1 lead over the P-Bruins into the second intermission.
The third period started off strong for the P-Bruins as they looked to tie the game.
They got a much needed goal and momentum swing when Spooner scored at the 7:43 mark. Fraser skated the puck into the Falcons zone and passed it to Warsofsky. The defensemen took a hard wrist shot that deflected off of Spooner's stick and into the net.
The game was forced into sudden death overtime, which in the playoffs is a full 20:00 period.
The P-Bruins were unable to earn the victory in overtime. At the 2:44 mark, Joudrey skated the puck into the P-Bruins zone and took a heavy wrist shots just below the right face-off circle that flew past Svedberg for the 3-2 overtime win.
The P-Bruins were 1-for-7 on the power play and 6-for-6 on the penalty kill. Svedberg stopped 34 of 37 shots while counterpart McKenna made 32 saves.
The Providence Bruins will travel to Springfield for games 2 and 3 of the series.
Game 2 will take place this Friday at 7:00 p.m. and game 3 will take place on Saturday also at 7:00 p.m. The series will return to the Dunkin' Donuts Center for game 4 on Tuesday, April 29, at 7:05 p.m. if the series goes beyond three games.