P-Bruins Stop the Devils in Shootout at the Dunk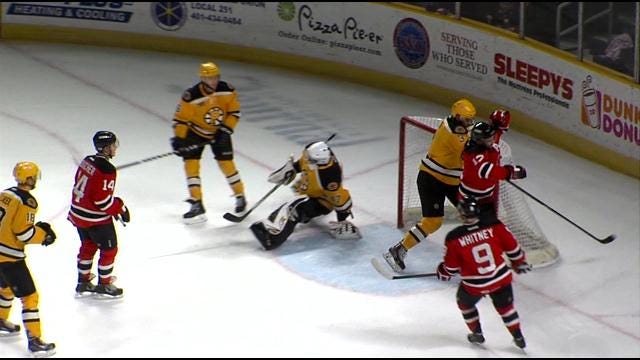 P-Bruins news release…
Providence, RI – The Providence Bruins defeated the Albany Devils 3-2 in a shootout Sunday afternoon at the Dunkin' Donuts Center. Craig Cunningham and David Warsofsky scored in regulation, while Anthony Camara and Seth Griffith scored in the shootout for the P-Bruins. Malcolm Subban made 29 saves in the victory.
The P-Bruins and Devils both came out to a strong start trading quality scoring opportunities throughout the first period. Albany struck first with a power play goal at the 18:52 mark of the opening period.
Tim Sestito scored his 11th goal of the season when he caught the puck, which rebounded off the pad of Subban and onto to his stick for him to slip it in the net. Reid Boucher and Joe Whitney picked up the assists. Albany took the 1-0 lead into the first intermission.
In the second period, the P-Bruins tied the game at the 5:15 mark. Cunningham scored his 21st of the season when in front of a crowded Devils' net, the puck trickled off of the stick of Ryan Spooner onto Cunningham's stick as he put the puck past Albany goaltender Keith Kinkaid.
Warsofsky had the second helper on the play. The Devils retook the lead at the 15:24 mark when David Wohlberg scored his third goal of the season off a wrist shot that sailed past Subban into the top left corner of the net. Chris McKelvie and Seth Helgeson recorded the assisst. Albany took the 2-1 lead into the second intermission.
The P-Bruins answered back tying the game at the 9:19 mark of third period. Warsofsky tipped a flying puck into the Albany net for his fourth goal of the season. Blake Parlett and Scott Campbell grabbed the assists as the game went into overtime tied at two.
After a scoreless overtime, the game went into a shootout. Camara scored in round one, followed by a goal from Griffith in round three. Subban kept the Devils off the scoreboard in all four rounds as the P-Bruins went onto the 3-2 victory.
Subban stopped 29 of 31 shots for the P-Bruins, while Kinkaid made 36 saves for the Devils. The P-Bruins went 0-for-5 on the power play and 3-for-4 on the penalty kill.
Providence is back in action at the Dunkin' Donuts Center on Friday at 7:05pm against the Worcester Sharks. The first 2,000 fans in attendance will receive a cinch bag courtesy of Dr. Day Care and Graphic Ink