Pablo Commits Two Errors, Mookie Betts Goes Yard as Sox Fall to Rays in 10-Innings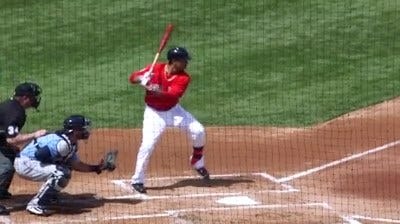 FORT MYERS, Fla. (AP) _ Looking for his first fully healthy season since his rookie year in 2012, Matt Moore allowed one hit over two innings in his first spring training outing this year for the Tampa Bay Rays, a 3-2, 10-inning win over the Boston Red Sox on Monday.
Mookie Betts hit a leadoff home run for the Red Sox.
Third baseman Pablo Sandoval's two errors in the fourth led to two unearned runs.
Boston tied the game in the bottom half when Xander Bogaerts scored from first on David Ortiz's single down the right-field line, Ortiz's first hit and first RBI of his final spring training.