Paid suspension for Coventry District Fire Chief facing misconduct allegations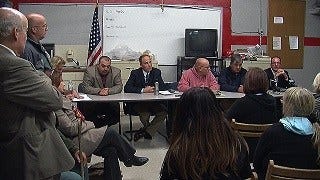 By: Rebecca Turco
Email: rturco@abc6.com
Twitter: @Rebecca_Turco
COVENTRY – Paid suspension for the Coventry District Fire Chief facing allegations of drinking and smoking pot on the job, after a local TV station broke the story.
The Coventry Fire District Board of Directors unanimously passed a motion Monday night to suspend Anthony Fire Department Chief Paul Labbadia, pending an independent investigation.
The five-member board made the decision during an executive session that lasted about an hour and a half. Members did not answer questions or accept public comment afterward.
The board's attorney told ABC6 he has advised Labbadia of his right to get a lawyer.
Resident Bud Ziak said he would have preferred to have a say in the process, or at least have heard the discussion. "I'm a taxpayer," he said. "I want to know."
Captain David Gorman, president of the Coventry Firefighters Union, believes the board's decision was fair. "We want to make sure that we have a leader that isn't leading us into a fire fight that potentially could be impaired," Gorman explained.
The board's decision comes after numerous politicians called for Labbadia to resign. Board members would not disclose which authority will be handling the investigation.
© WLNE-TV 2014