Papal Visit: John DeLuca & Mike LaCrosse in Philadelphia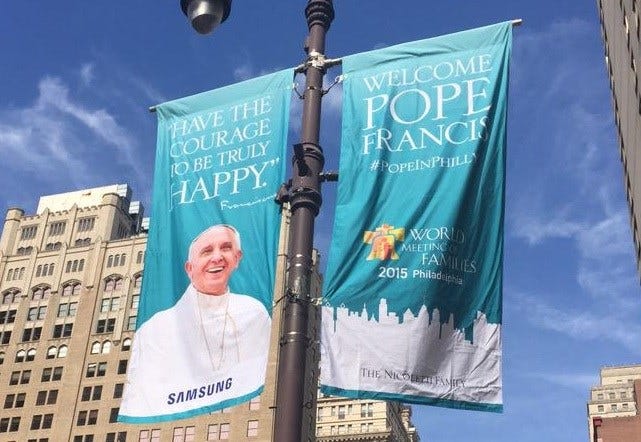 By News Staff
Reporting by John DeLuca and Mike LaCrosse
news@abc6.com
Excitement is building in anticipation of Pope Francis arriving in Philadelphia Saturday morning.
People from all over the world, a "World Meeting of Families", are gathering, met by enthusiastic Philadelphians looking to celebrate.
ABC6 anchors, John DeLuca and Mike LaCrosse have hit the road to follow the Holy Father as he completes the last leg of his U.S. trip
Souvenir flags, Pope bobble heads, and even Catholic electronic music with vocals by priests and nuns, are for sale in Philly.
"We've had tremendous positive feedback. Everybody is taking it back to their communities, their schools. It's been an excellent, excellent opportunity," says Elizabeth, who sells the Catholic Electronic Music.
Artist, Mark G., took a different approach, not selling anything directly, but creating feel-good moments for people. Mark drew a picture of Pope Francis and had people stop on the sidewalk to write simple uplifting messages, or just put down their signatures, saying the signatures give the picture life.
"People say, 'Oh, I'm not an artist, I can't draw,' but everyone has a signature. When you write a signature, it's like writing with your spirit because it's very organic. Its not print, not mechanical, you just let it flow," says Mark.
Without a doubt, the most popular thing for sale by street entrepreneurs is t-shirts. On the corner of 13th and Arch, Anthony, of South Philadelphia, is selling shirts, but says he's just happy to be there.
When asked how business was going, Anthony says he can't complain, "It's wonderful. This is once in a lifetime experience in Philadelphia. It's great for the city and the moral."
The Papal visit is great for moral and great for tourism as hotels, restaurants, and pubs are all packed with people.
Among the people visiting from across the nation, Catholics young and old from the Ocean State are enjoying their first full day in Philadelphia.
"Everyone is talking about Pope Francis more than I thought they would."
"We're having a great time. The weather is great, and we can't wait to see Pope Francis. He is a great Pope for the Catholic Church and were very excited," says Warwick native, Bill Maloney.
The group of more than 400 hitting the streets, taking in the religious sights and sounds on every corner. They says it's been a warm welcome in the city of brotherly love.
"The people are great the atmosphere is very electric," says Andrew Parish, of Chepachet.
The Parish family has been tracking the Pope's message while here in the United States and say he's leaving them with a lot to think about and grow on.
"So transformational, you know. We kind of came down with our own mindset, and then we started listening to the Pope and contemplating, and it really enlightens us, and we see ourselves actually changing and transforming and getting what's he's saying," describes Andrew.
Father Ryan Connors, of East Greenwich, is helping guide Rhode Island's pilgrims, and says the excitement and joy Pope Francis' brining shows a united and strong Catholic Church.
"It's been a wonderful trip. It's a real positive spirit, the sign of the strength and vitality of the faith of the people," says Father Connors. "The church is alive. The church is young. There are a lot of people here. The future is strong."
ABC6 News will have continuing coverage of the Pope's trip all weekend as John and Mike cover the Holy Father's visit in Philadelphia.
© WLNE-TV 2015