Parents in New Bedford say neighborhood park is dangerous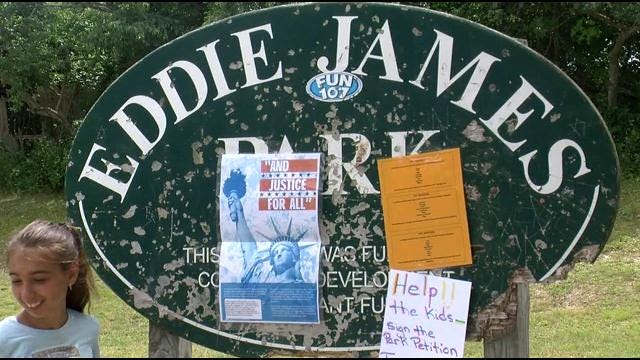 By: Alexandra Cowley
Parents in one New Bedford community are outraged. They say their neighborhood park is a danger to their kids and are pleading for city officials to help. The Eddie James Park in New Bedford looks more like an abandoned lot. That's because the playground at the city owned park was so old it became rusted and rotted. So, that equipment was recently removed, but parents say it's still not safe.
Jagged fences, backless benches, and swingless swing sets are what's left at The Eddie James park in New Bedford.
"It's not safe, it's not practical, there's nothing for them to do here," said mom Nikeia James.
James lives with her two young children at the Nashmont Housing Complex in New Bedford. In the six years she has lived there, she says the park has been nothing more than a hazard to her kids.
"The kids would climb on it and basically try to have fun and look up, but if you actually looked up it was just rust and just broken. Had they climbed on it they would have cut their hands and been seriously ill," explained James.
James shows us pictures of what the playground used to look like. Rust, nails, and rotted wood are in all the pictures of the old playground structure. It's been taken down in recent months, after the new parks and recreation director Mary Rapoza saw its dangerous condition. Rapoza said out of the 26 city parks, Eddie James was by far the worst.
Rapoza said, "I surveyed all the parks and playgrounds in this city and one of the things I noticed is that the playground equipment here at the Eddie James park was really in disrepair and there was really no hope for it and it really needed to come down."
Kids play at the basketball courts and run on the open lawn. A city program provides free lunch and activity to the kids at the park, but parents say it's still not safe.
"A lot of the parents don't even take our kids here. We'll go get the lunches and go back to the front of our houses," said James.
There's still broken fences and metal sticking up from the ground. Issues Rapoza is aware of and working on.
"This is obviously a playground that is in need of attention so I'm actively soliciting funds," she said. Councilman Henry Bousquet has been trying to improve the park since 2012, but he says other issues have taken the forefront.
"We're blowing manhole covers during rainstorms. We need that stuff fixed first before we can address play places," Bousquet said.


New Bedford parks and recreation is planning to put a new table and awning in that area for shade. Officials say a new playground would cost about 250,000 dollars. They're applying for grants and hoping to get something in for the coming Spring.
(C) WLNE-TV 2014