Parker, Ginnetti Named Preseason All-CAA, URI Football Picked To Finish Last In Coaches Poll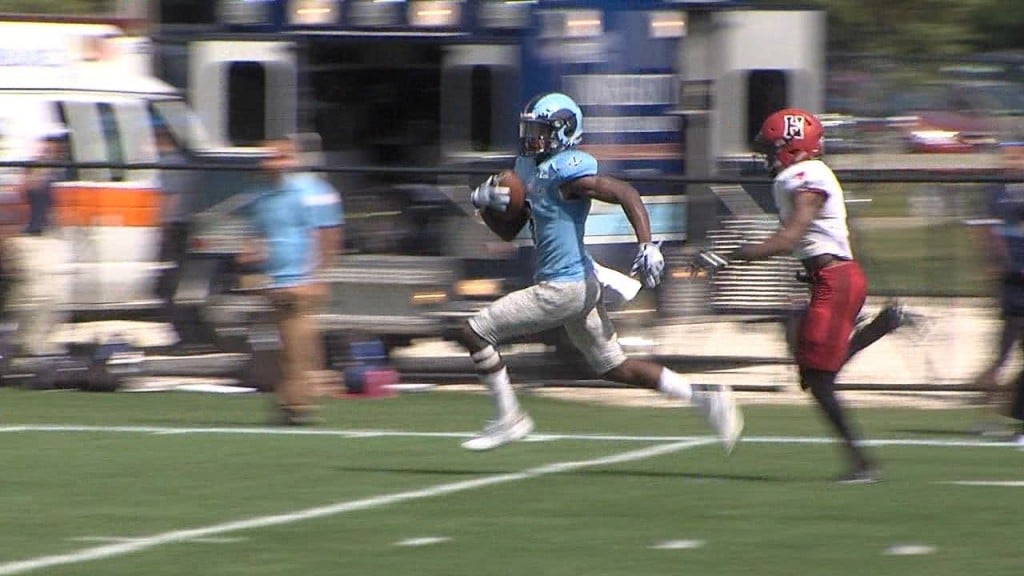 CAA Press Release
BALTIMORE, Md. (July 24, 2018) – James Madison, which returns 12 starters from last season's 14-1 team that reached the NCAA FCS National Championship game for the second consecutive year , was the overwhelming choice to capture the CAA Football title in 2018 according to a vote of the league's head coaches and media relations directors. The announcement was made on Tuesday morning as the conference conducted its annual Media Day from M&T Bank Stadium in Baltimore.
New Hampshire, which is coming off its record 14th straight FCS playoff appearance, was picked second in the poll, while Delaware placed third. Fourth-place Stony Brook, fifth-place Elon and sixth-place Villanova were separated by just five points in the voting. Richmond was chosen seventh, followed by Maine, UAlbany, Towson, William & Mary and Rhode Island.
JMU captured its third straight CAA Football title in 2017, becoming the first school to achieve that feat since Boston University (1982-84) more than 30 years ago. The Dukes posted a perfect 8-0 mark in CAA play for the second consecutive season and enter the 2018 campaign having won a league-record 18 straight conference games. Offensively, JMU returns its top three rushers and two of its top three receivers from a unit that averaged a CAA-best 34.4 points per game. The Dukes led the nation in scoring defense (11.1 ppg) in 2017 and welcome back five starters from that unit. Senior All-American Rashad Robinson (7 int.) and senior Jimmy Moreland (8 int.) anchor a secondary that tied a CAA record and topped FCS with 31 interceptions a year ago.
New Hampshire welcomes back nine starters on both sides of the ball from last year's 9-5 team that reached the quarterfinals of the FCS playoffs. Senior quarterback Trevor Knight (291-471, 3,433 yds., 26 TD's) is back to lead the offense and he returns his top two receiving targets in All-American Neil O'Connor (97 rec., 1,396 yds., 10 TD's) and junior Malik Love (70 rec., 733 yds., 3 TD's). Spearheading the Wildcats' defense are linebackers Quinlen Dean (124 tackles, 11.5 TFL) and Jared Kuehl (65 tackles, 13 TFL) and defensive end Jae'Wuan Horton (9 sacks).
Delaware went 7-4 and posted its best conference mark (5-3) since 2011 in its first year under head coach Danny Rocco. Eight starters return on offense, including leading rusher Kani Kane (142 att., 594 yds., 7 TD's) and top receiver Jamie Jarmon (29 rec., 327 yds., 6 TD's). The Blue Hens ranked 10th nationally in scoring defense (16.8 ppg) last season and have seven starters back. Topping that group are defensive back Nasir Adderley (78 tackles, 5 int.) and linebackers Troy Reeder (89 tackles) and Charles Bell.
Stony Brook tied a school record for overall wins (10-3), posted its most CAA victories ever (7-1) and advanced to the second round of the FCS playoffs in 2017. The Seawolves have 14 returning starters, including quarterback Joe Carbone (204-363, 2,470 yds., 23 TD's) and linebacker Shayne Lawless (93 tackles, 13 TFL, 8 sacks).
Elon has nine starters back on offense and defense from last year's 8-4 team that earned an FCS playoff berth for the first time since 2009 and won more CAA games (6-2) than in its first three years combined. The Phoenix offense returns quarterback Davis Cheek (190-323, 2,431 yds., 15 TD's) and its top three rushers who combined for nearly 1,900 yards. All-America linebacker Warren Messer (114 tackles, 11 TFL, 5.5 sacks) anchors the defense.
CAA Football also announced its preseason all-conference team. JMU had a league-high six players honored, including Robinson as the preseason Defensive Player of the Year. New Hampshire's Knight was named the preseason Offensive Player of the Year.
2018 CAA FOOTBALL PRESEASON ALL-CONFERENCE TEAM
(Selected by a vote of Head Coaches and Media Relations Directors)
OFFENSE
Name, School Cl. Pos. Ht. Wt. Hometown/High School
Trevor Knight, New Hampshire Sr. QB 6-0 198 Amherst, N.H./Nashua South
Kani Kane, Delaware Sr. RB 6-0 240 Bridgeville, Del./Sussex Tech
Marcus Marshall, James Madison Sr. RB 5-10 207 Raleigh, N.C./Millbrook
Cal Daniels, Stony Brook Sr. FB 6-2 255 Bethel, Conn./Bethel
Dejon Brissett, Richmond Sr. WR 6-2 190 Mississauga, Ontario/Lake Forest Acad.
Neil O'Connor, New Hampshire Sr. WR 5-11 182 Leominster, Mass./Leominster
Aaron Parker, Rhode Island Jr. WR 6-3 191 Brandywine, Md./Gwynn Park
Charles Scarff, Delaware Sr. TE 6-5 270 Lancaster, Pa./Lancaster Catholic
Mario Farinella, Delaware Sr. OL 6-0 300 Bloomfield, N.J./Bergen Catholic
Ethan Greenidge, Villanova Sr. OL 6-4 335 Flanders, N.Y./Riverhead
Jahee Jackson, James Madison Jr. OL 6-3 292 Baltimore, Md./Gilman
CJ Toogood, Elon Sr. OL 6-2 293 Holly Springs, N.C./Holly Springs
John Yarbrough, Richmond Sr. OL 6-5 285 Homewood, Ala./Homewood
DEFENSE
Name, School Cl. Pos. Ht. Wt. Hometown/High School
Darrious Carter, James Madison Sr. DL 6-5 235 Indiana, Pa./Indiana Senior
Andrew Clyde, Richmond Sr. DL 6-3 275 Dallas, Texas/Highland Park
Brandon Ginnetti, Rhode Island Jr. DL 6-3 275 East Haven, Conn./Cheshire Academy
Kayon Whitaker, Maine Jr. DL 6-3 235 Washington, D.C./Friendship Collegiate
Quinlen Dean, New Hampshire Jr. LB 6-0 227 Greenbelt, Md./Eleanor Roosevelt
Shayne Lawless, Stony Brook Sr. LB 6-1 225 Moorestown, N.J./Moorestown
Warren Messer, Elon Sr. LB 5-11 227 Garner, N.C./Garner
Troy Reeder, Delaware Sr. LB 6-2 245 Hockessin, Del/Salesianum
Nasir Adderley, Delaware Sr. S 6-0 190 Philadelphia, Pa./Great Valley
Rob Rolle, Villanova Sr. S 6-0 185 Newfield, N.J./Delsea
Jimmy Moreland, James Madison Sr. CB 5-11 172 Royal Palm Beach, Fla./Royal Palm Beach
Rashad Robinson, James Madison Sr. CB 5-11 182 Richmond, Va./Hermitage
SPECIAL TEAMS
Name, School Cl. Pos. Ht. Wt. Hometown/High School
Earnest Edwards, Maine Jr. KR 5-10 175 Rochester, N.Y./Aquinas Institute
Donovan McDonald, UAlbany Jr. PR 6-0 175 West Orange, N.J./Montclair
Griffin Trau, Richmond Sr. PK 5-8 170 Culver, Ind./Western Reserve Acad.
Harry O'Kelly, James Madison So. P 6-1 178 Wynnum, Queensland, Australia/Iona
Mozai Nelson, Maine Sr. SPEC 6-0 205 Uniondale, N.Y./St. Anthony's
CAA FOOTBALL PRESEASON OFFENSIVE PLAYER OF THE YEAR: Trevor Knight, QB, New Hampshire
CAA FOOTBALL PRESEASON DEFENSIVE PLAYER OF THE YEAR: Rashad Robinson, CB, James Madison
2018 CAA FOOTBALL PREDICTED ORDER OF FINISH
(Selected by a vote of Head Coaches and Media Relations Directors)
1. James Madison (21 first-place votes) 241
2. New Hampshire (2 first-place votes) 206
3. Delaware 182
4. Stony Brook 169
5. Elon (1 first-place vote) 168
6. Villanova 164
7. Richmond 127
8. Maine 81
9. UAlbany 78
10. Towson 74
11. William & Mary 55
12. Rhode Island 39