Part Three: ABC6 Anchor Mark Curtis on Weight-Loss Challenge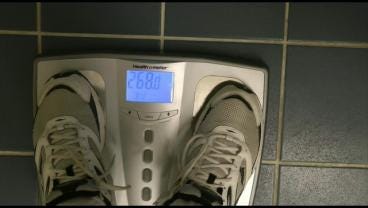 It's time to update the "battle of the belt-line!" ABC6 Anchor Mark Curtis has been on his diet and exercise program for five weeks now. Here's his progress report:
It has been a mixture of success and setbacks. Everyone knows cooking is my hobby, eating is my passion, and dieting has been my downfall. Five weeks ago, I embarked on the "Transformation Challenge," a new eating and exercise program.
Week after week, I've persisted with my weigh-ins, showing up faithfully at Fabulous Fitness in North Kingstown. Five weeks into the 90-day "Transformation Challenge," it is working well.
"Well it's your strength and conditioning," says Eddie Brandt, trainer at Fabulous Fitness. "Your stretching, cardio and — of course — your eating plan has been really strong and your commitment to yourself."
I've stuck to the Visalus shakes and healthy salads. Of course, there have been temptations and potholes, like the infamous "Death by Chocolate" cake. And, this week's nemesis: Pizza.
"Oh, this pizza looks delicious," says Curtis. "Nobody's looking. I have to have at least one bite."
Adds Brandt: "What do you think you're doing? Put down the pizza and take a step away from the table! This is not on your eating plan, soldier!"
Oh well. But, I have stuck to the regular exercise three and four days a week. It has been tough at times but really gets easier the more I show up.
"The nice thing about these group classes is the support you get from other people in the class," says Curtis. "I mean, we are all in here to lose weight and get back in shape, and sometimes you have struggles through this — and the support of other people and the instructors can really help a lot."
One of the people I met in the "Transformation Challenge" is Joanne Filippou, co-owner of Twisted Pizza in East Greenwich. We got to talking about one of my biggest challenges: the temptations of dining out. While my family may want pizza and wings, that's off limits to me now. So, the restaurant has now launched a "Lighter Side" menu with items, such as my balsamic chicken and veggie wrap.
"There's a lot of clientele that we have that, you know, watch their weight," says Filippou. "And, they want to be healthier and live longer and do it, you know, the healthy way."
And while my diet has been very successful so far, the temptation is always there.
Finally, the moment of truth: My weigh in at five weeks is 249 lbs. I've lost 19 pounds so far!
But it is only five weeks, and this is a 90-day challenge. I promise to take the camera to every workout and check back in often with updates.
– Mark Curtis, ABC6 News.