PASA director surprised with $100,000 award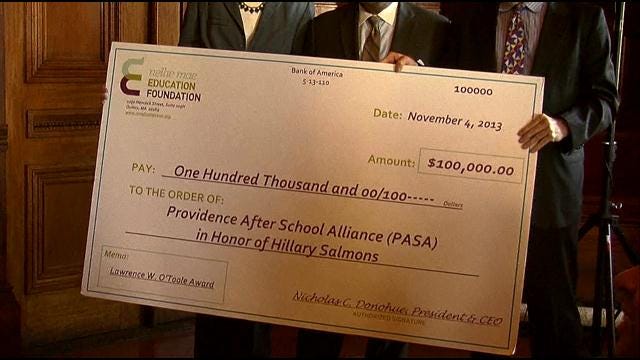 By Dana Griffin
PROVIDENCE, RI- Hillary Salmons, executive director of Providence After School Alliance was surprised today with $100,000 by the Nellie Mae Education Foundation.
Salmons had no idea she was being awarded today with the check and Nellie Mae's, Lawrence 'Otoole Leadership Award.
PASA offers after school enrichment programs for over 1,600 Providence youth.
Hillary Salmons said, "It's really been a collective sandbox and we've been building castles together so it means a lot to me on behalf of the community that I'm privileged to serve and work with."
The Nellie Mae Education Foundation is the largest charitable organization in New England that focuses solely on education.
©2013 ABC6/WLNE-TV. All Rights Reserved.